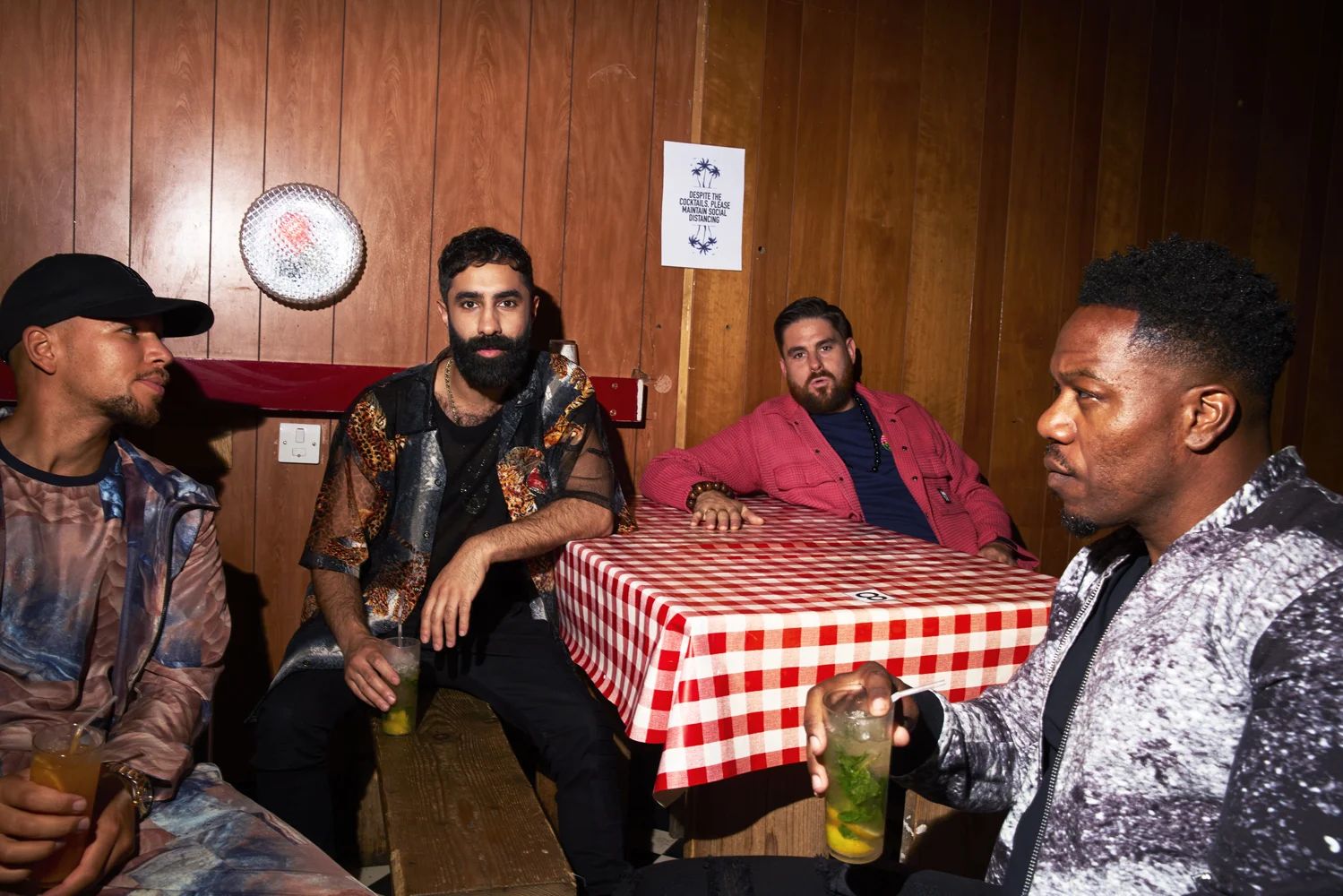 Rudimental
Hackney locals Piers Aggett, Amir Amor, Kesi Dryden and Leon "Locksmith" Rolle, more commonly known as Rudimental, are arguably one of the biggest British dance bands of the last decade, remaining a permanent fixture within the electronic world since skyrocketing to prominence in 2012 with the single
 Feel the Love
.
The track which featured singer John Newman, resulted in a UK number one and a BRIT nomination the following year, kick-starting what can only be described as an incredibly fruitful career journey cemented by electrifying performances across a multitude of world stages.
Meaningful collaboration has remained at the core of what the quartet do, producing hits such as Not Giving In, UK chart-topper Waiting All Night, featuring Ella Eyre and two number 1 albums along the way.
Continuing in that vein, taking inspiration from the UKG influenced soundscapes of their earlier career and the memories of the band's youth in the clubs of east London, Ground Control presents a colourful highlight reel of versality consisting of soulful melodies and expressive rhythms. In addition to channelling the sentiment of Rudimental's pirate radio era, the project also features appearances from a selection of collaborators including MJ Cole, Hardy Caprio, Skream, Kareen Lomax, BackRoad Gee, D Double E, Hamzaa, Kojey Radical, and The Game.
After announcing the upcoming release of their fourth studio album Ground Control due September 3rd, Kesi and Amir from Rudimental sat down with 1883 to discuss their return to tour life, plans for label Major Toms and the secret ingredient to creating an epic live show.
You guys are lot of things but predictable isn't one of them. So, with that being said, what was your thought process going into this project?
Kesi: I feel like this album is the sound of us being off the road for a few years due to the pandemic. We've been in London locked in the studio having time to focus on the sounds and quite naturally I feel like not having clubs around and not being able to go out and dance has really shaped the sound of the music we've been making. On this album the sonics are probably closer to a club sound than we've ever done before. The studio has become our live experience, it's been our safe space. We haven't been able to collaborate in the way that we normally do. We had a number of songs already written before the pandemic and then when we came into lockdown, we were able to go back to those demos. It's probably one of the most sonically cohesive albums we've done so far.
Which track did you have the most fun making and why?
Amir: So Sorry was so much fun to make – that's the track we've just put out. It just came together so naturally. It was a lot of fun to collaborate with Skream who we've been friends with and toured with and hung out with but not made any music with for like 9 years or something. He sent the original snippet of an idea a while back and I think it was an idea that he'd started a couple of years ago. Anne-Marie laid down some vocals on it and we all got in the studio, and it was just one of those where everything was just flowing, and ideas were coming one after the other. We didn't over produce it or put too much on it. It came together really nicely.
K: I think another one to add to that was our track with The Game, D Double and BackRoad Gee just because of the journey of that track. It's been 8 years in the making. It started in 2014 in LA. We had a session with Ed Sheeran and The Game where we made 4 or 5 tracks together which the world hasn't heard yet. But then for whatever reason those tracks didn't come out and we sampled a little bit of The Game from one of those tracks which is the hook you can hear. We made a new beat, got D Double on it, which took us back to our childhood and then we reached out to BackRoad Gee. Being around him and seeing the way that he writes is so inspiring. You can see the excitement he gets out of making music. Just being around that youthful energy was refreshing. It's one of the most out-there collaborations we've ever done. I think everyone will look at that and have to press play just to hear what it sounds like.
What strengths do you think you bring to the table when it comes to collaborating?
K: A lot of time you'll hear someone step out of their comfort zone when they work with us and trying a different sound.
A: We tend to bring a deeper side out of people. I mean getting the game on a house track and him agreeing to it…People come to our studio knowing that they're going to do something different and that's the beauty of it. They know what our subject matters are about. They know we're about positivity and togetherness and some pain. So, when they come to writing lyrics you also get a different aspect of people there as well. 
Speaking of bringing things out of people, the roster over at your label Major Toms continues to grow and flourish. Are you currently looking for any more talent?
Both: Yeah!
K: We're always keeping our eyes open for new talent, and we have new talent coming through our studio every day of the week. When we're not in there we've also got other producers and writers that we've signed to our publishing label, and they are constantly working with lots of new artists. That is how we found some of the collaborations for Ground Control. It was through our studio being a bit of a hub and having lots of different artists passing through. That's something that we're always on the lookout for.
What advantages do you think being musicians yourselves gives you when it comes to signing new artists?
A: I think it's a huge advantage because we've been through all of the motions. We've been signed to different labels, I've been signed to a label in a band and then the band got dropped…we've all done so much stuff. We've been through it all! Experientially we're way different to any other label. We're not your typical A&Rs. We see things from an artist perspective. I think that allows artists to connect with us and allows them to feel safe. We allow them to get creative and try to nourish and further that with them, the same way we make our own music.
You guys have been around for quite some time now and I'm sure everyone is dying to know what the secret to your longevity is?
K: ooo
A: One of the keys are live shows that are immersive and expansive and that capture people. I think when we first started a lot of promoters were booking us on the premise that it was going to be a dude or two dudes turning up with some memory sticks to DJ, and we would have probably made a lot more money if we just did that-
K: – Short term (laughs)
A: – Yeah short term. But we decided very early on that all of our favourite bands…are bands. Yes, we come from UK pirate culture and all of that stuff, but I love Parliament-Funkadelic, I love Massive Attack and The Specials. We love live music and we're all musicians. I play guitar and bass, Kes plays keys, we all play instruments. So that's one of the keys. Don't underestimate the power of your live shows. 
Speaking of actually what would you say makes a great performance?
A: There's one side of it where you feel like you've played your best technically and you haven't fluffed up anything but often that doesn't equate to a great show for the audience. Sometimes a show where we feel like "ahh sh*t there was technical difficulties" or it was a bit hard go down really amazingly well. But in general, it's the feeling and the vibe. If we're enjoying being with each other and having fun on stage, that's contagious and people constantly say that about us. If you're too focused on trying to get things right you're not having as much fun as you could be. When we're having fun, the audience are having fun.
There are of course tracks in your catalogue that are crowd favourites that you have to perform when you go on stage. How do you ensure each of those performances is special/different?
K: I think as a band we are quite free with stuff and every show will be slightly different. Obviously, there are songs like Feel The Love which we've been playing for nearly 10 years now, but it's not the same as how it is on the record when we play it live. Every time we play it someone in the band might change a little something to keep us on our toes. Last weekend we did Latitude and it looked like there were 30,000 people singing it back. Still after 10 years you get the goosebumps.
A: You can never get bored of that. Our live show songs aren't exactly the same arrangement as the record. Sometimes we might extend a section, or we might play on specific part and build it up. It's really about dynamics. 
Okay so that said, do you think you approach creating music any differently now to when you first started?
K: I think it's gone on a journey throughout each album process based on where we've been at that time. So, the second and third album might have been slightly more live band centred sonically just because we were on the road constantly and had studio tour buses and we were probably in a different space to the one we're in now having been at home for 2 years in the studio. I think the sound of the music we make reflects where we are in the moment.
Let's actually break that down a little more. So, this is your first studio album since 2019. In a musical landscape that seems to thrive on a conveyer belt of output, why was it so important for you to take your time with the project?
K: I think it was more the fact that for us it was the first time stepping off the road and being off tour. Throughout the whole process of all of our other albums we've been in the studio for a month and then on tour for a couple of months then back in England for a few months. We've never had a period of time where we can just be in one space, and I think that was quite important for us. I'd say for the first 6 months off tour we were finding our feet and adjusting to London living. We did actually decide to stop touring before the pandemic hit, so we've definitely had some time to really get stuck into things. 
A: We decided to take a break just before the pandemic and ended up taking a much longer break from touring than expected, but it's been really beneficial because it's allowed us to learn how to work differently. At first remotely, which was something we never do. We're usually in the room with the artist. Slowly we started getting back in the room together and then after a few months it started to back to normal. It kind of felt like how it did before we started touring so heavily, where we actually had extended time in the studio and extended time to get things done, so that felt really good.
And now that the world is opening back up which tracks are you most looking forward to performing live?
A: I'm looking forward to playing So Sorry. I feel like that's a set closer.
K: I was going to agree with you there Amir, I think it's an epic set closer. Our first headline show after our album is going to be the Warehouse Project and it feels like the perfect song to end the set with such an epic moment to go out on. I think that's what this album is about. It's being in that club environment and being at festivals and having those moments.
And finally guys What excites you most about the future?
K: I'm excited about the Rudimental albums but I'm also excited about our label. There are some real exciting artists coming through our studio and we will be making some more signings and developments in the near future so I'm super excited to keep building that. That also keeps Rudimental fresh, immersing ourselves in the culture around our studio.
A: Our ethos has always been to develop artists and bring new artists through and I think we're more focused on that than ever so you're going to see more of that. With festivals opening back up you're going to see some new faces on stage. We're really excited to be focusing more on that now. With the new record as you've probably seen there are couple of new names on there and with our future records, we're going to be showcasing even more artists and releasing music alongside all of this. 
Rudimental's 4th studio album Ground Control is out September 3rd. Follow via @rudimentaluk
Interview Ray Sang
Top image credit Ewen Spencer
[embedyt] https://www.youtube.com/watch?v=V5sawgVLtjI[/embedyt]