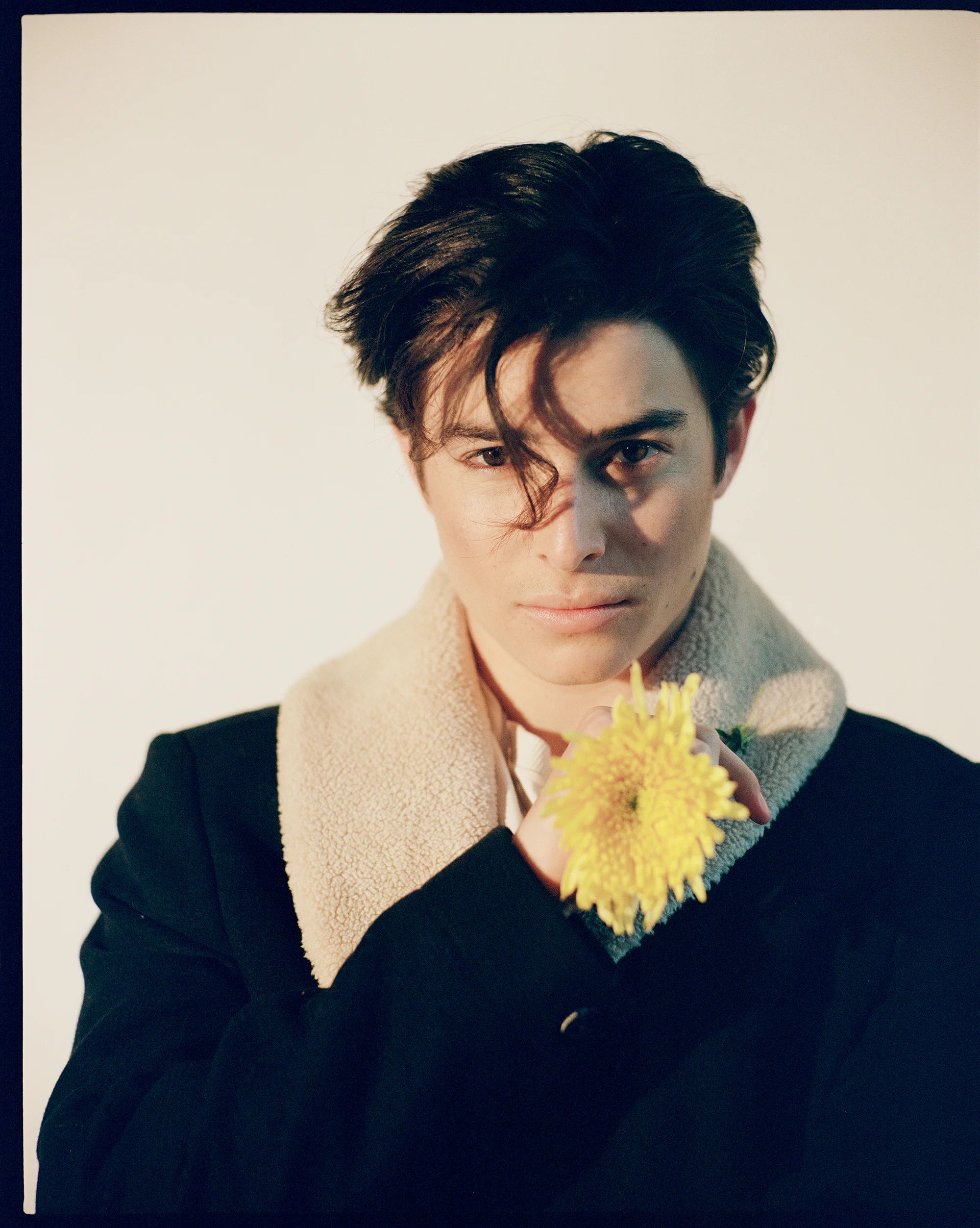 Spencer Barnett
Spencer Barnett is your new favourite Indie artist and will be taking this new decade by storm! After releasing his single, 'I'm Fine' this past November, he's now debuting his second EP with the same title.
Spencer is still figuring himself and his identity out with the help of his music. He speaks to 1883 about his writing process in new places, the résumé of producers and artists he's had the pleasure of working with, and what it's been like moving to LA. And… surprise! He discusses even more music to come! I'm Fine is available to purchase/stream on January 17th, so don't miss it!
Starting off the new decade with a bang, debuting your new EP I'm Fine. What are you most proud of on this project?
Honestly, this next project I'm Fine is my first project where I play completely real instruments and didn't use any computer-created sounds whatsoever. I'm really proud about that. With everything made on a computer nowadays, it's good to go back to playing real instruments.
Your last single 'I'm Fine' shares the same name of your new EP, what made you decide that this was the theme of the EP? Why is it important?
I always write the project before I come up with the title. It comes together itself. Each specific song has a different message. Whether that be 'Try' which is more about pain, or 'Waste My Time' which is about wasting time. 'I'm Fine', which is more about yourself.
Overall, everything ties into that same feeling of I'm Fine and everyone can interpret that in their own way and that's what's so amazing about music. But, personally, it's not necessarily as much about an empowerment thing; it's more about self-assurance and reassurance. Sometimes, when all this crap is happening in the world, you just need to take a beat and realize that it's all okay and these problems aren't the biggest in the world. That's my thinking behind the whole project!
What does I'm Fine (as an album and a single) represent? And what do you hope fans will take from it?
What's most important for me is that I have a personal connection with all these songs. Like I said, what's so great is that fans and all my supporters can create their connections with the song and whatever that meaning is to them. People start to hear the music and associate it with experience and that's the most amazing part about being able to share music with other people. It's hearing that those set of words changed their mindset on something. I was never the best public speaker; it was always a challenging thing to do. I feel like through my music I'm able to connect with so many people that I have yet to meet and that's really special to me.
You've been working with major producers since you were 14. Who are some of the producers and how do you feel this has shaped your career as a musician?
I've had so many amazing opportunities over the last couple of years! Ever since I was young, I got to be in the studio with some incredibly talented producers DJ White Shadow being my favourite whom I was working with at that time. The Stereotypes as well. What I've recently done is not judge producers by their past and their discography but try and find more up-and-coming producers, and producers who are closer in age to me. Sometimes it's hard to relate when you're writing with someone who is 35 or 40, and I'm 19; there's sometimes a disconnect. What I did with the whole EP I'm Fine was work with producers who were more my age. Specifically, I worked with Hoskins and The 23rd. They're all British, all incredibly talented. I don't know if you know, this whole project was created in London and just outside of London as well. That was a huge influence on the sound and the workflow as well.
What's one thing you've learned in the music industry you wish you knew when you first started?
That the feeling or sound always has to come from me at the end of the day. If it comes from something else, people see through that. People see through inauthentic music and that word gets thrown around so much, but it's for a reason! As an artist, everything needs to come from you or else it's not a proper representation of your feelings and you can't emote and connect with people in the same way. That was something I struggled with figuring out for a long time because I had been doing all this music as I was growing up since I was 13. I had no clue who I was. I'm still trying to figure out who I am as a person and as an artist. Not only have I started to find that through music but also, I feel like as time has progressed, I've been able to encapsulate that more in my music and through my songs.
What got you started in music when you were 13?
When I was 13, I started to sing. This man named Stephan Jenkins, who is the lead singer of Third Eye Blind, found me and heard me sing and reached out and we started to collaborate and work together. I realized that music was my true passion through that. I started coming to LA and pursuing it full time. I moved here fully about 8 months ago. It's been pretty insane; I've had incredible opportunities here and working on a lot of music I'm pretty excited to share.
One of your quirks is picking new environments to write in, and you spent time writing this new EP in London. Which place did you find most inspirational and what makes a good environment to write in?
London was probably the most inspirational place I've ever written in. It was a turning stone in how I write my music and changed my entire process and sound. Going to London, those sounds and textures are different from being in LA or California. Afterwards, I was lucky to go to Paris, or just outside of Paris in France for a couple of days and worked on some more music that will come out [hopefully) soon. That was also an incredibly inspirational place. I think more than just the place. What's most important for me when working on a song or collaborating on music is to be isolated from the city and other people. If you have all these distractions, like the distraction of being in LA or being in New York, it's really hard to connect with the deeper and rich lyrics that I want to portray in my music. That's why going to London and France was such an amazing experience because I got to get away and really just focus on the music.
Take us through your typical songwriting process.
For 'I'm Fine', myself, Hoskins, The 23rd and Jackson Morgan, the co-writer, were there in the studio for about six days. It was a residential studio, so we were all staying there as well which was amazing because we were having dinner one night and I would be playing guitar and I found some progression I liked then Hoskins would say 'let's hop into the studio and flush this out'. It is organic with how songs start and they are all different but the part of being together and staying together is so great because, at any moment when creativity sparks, you can pathologize on that and turn it into a song.
On the other side of that, was it difficult living with and working with these people?
I mean they're some of my close friends. It was really fun to hang out and make music. It was truly a blast. Of course, we all got a little cabin fever after a week. Everyone was ready to go home, but there was no drama to report.
You can play a multitude of instruments. How many can you play and are there any you wish to learn? And how has having this musical repertoire of skills influenced your sound?
My main instruments are guitar and piano. I can get by on drums. I would love to continue to learn the drums. Another thing I've been working on lately is producing music. Even though it isn't an instrument, it combines the skills you need for a lot of different instruments. It's helped me become a better guitar and piano player. This is because I have to be more conscious of a lot more things when producing that I wasn't aware of in the past. I always wanted to learn the trumpet. It's kind of random, but I think it's such a cool instrument. We'll see… maybe in 2020.
Following your EP release are you planning a tour?
I have my first two shows that are announced which I am over the moon about, very excited also nervous. They are LA and New York. LA is on February 17th and New York is on February 19th. I'm so psyched about that. I'm currently putting together the show and I'm definitely going to do a lot of songs off I'm Fine, songs off Reckless and I'm going to throw some in off the third EP so I'm super excited for that. Afterwards, I'm hoping to get on some sort of opening tour in the spring. But that's all TBD.
You keep hinting at a third EP. What can you tell us?
That will come in 2020. I can't give release dates or anything yet, but I'm actually in the studio finishing that up right now. I'm excited about that too. I feel like it's all a progression as well. With I'm Fine coming outm I'm hoping to go back and look at Reckless, my first EP, and the same thing with the third EP looking back on I'm Fine and it will show my progression as an artist and how I've grown as a person. I feel like that's really encapsulated in each EP. I'm excited for that to come out, especially excited for I'm Fine to come ou; it's my favourite of the three.
And lastly… do you have any resolutions for the new year? Or the new decade?
I probably should have started to think about this a little earlier, but right now going into this next year I just want to continue to make music and express my creativity through that.
Be a good friend, a good collaborator, and to stay happy. Those are my set goals for the decade.
Team Credits
interview by Amanda McFadden
photography Alexander Beer
styling David Hawkins @ Frank Agency
grooming Chantelle Phillips using Angela Langford and NARS Cosmetics
casting + production Angeliki Sofronas
styling assistant Julia Salmon
Listen to Spencer's new EP I'm Fine and check out music video for single 'I'm Fine' below.
[embedyt] https://www.youtube.com/watch?v=RXINZ88V2y4[/embedyt]