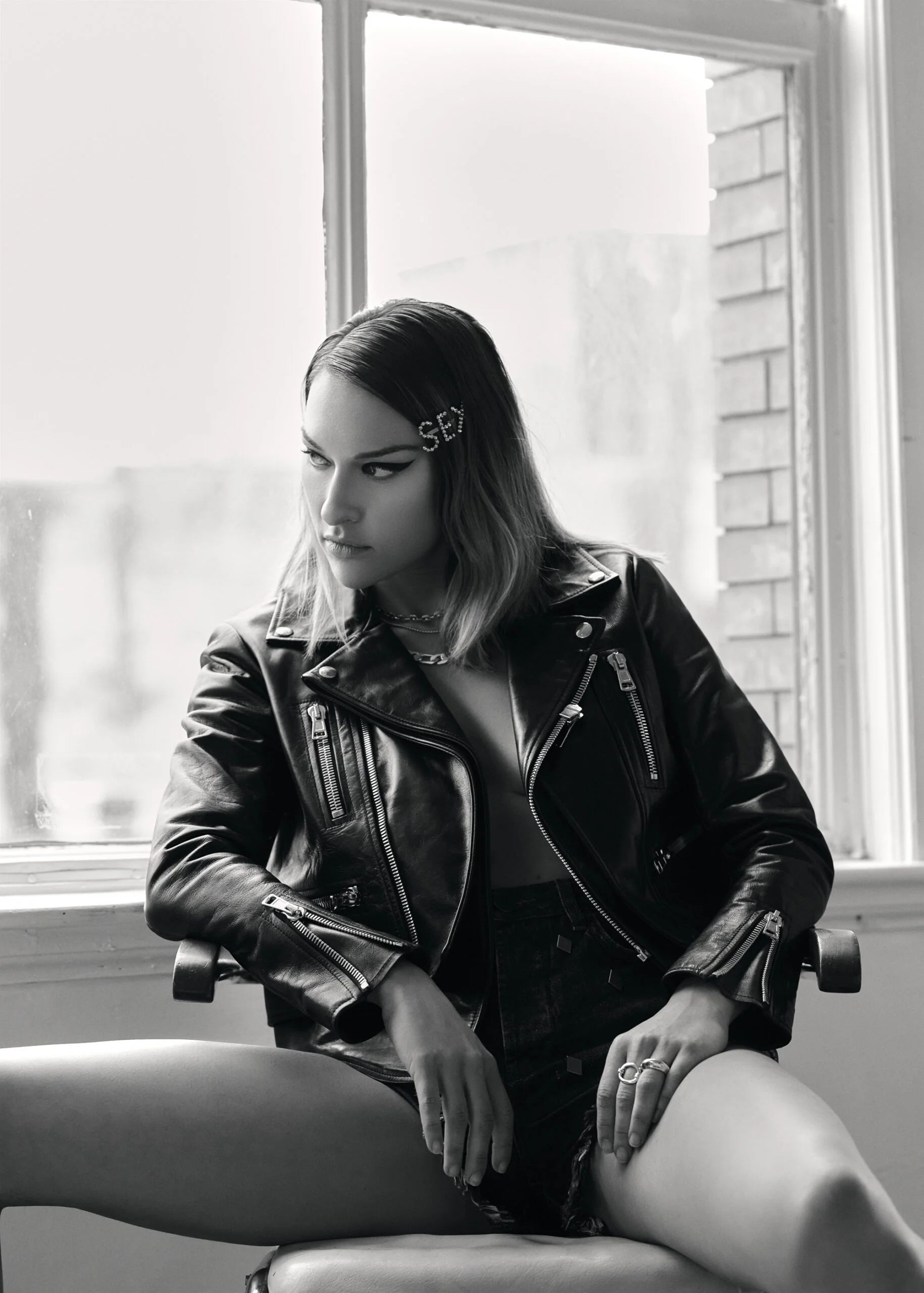 Tasya Teles
Canadian actress Tasya Teles is currently lighting the fire of audiences as Echo in The CW's The 100.
A warrior on-and-off the screen, there are parts of her character that can be seen in Teles herself. Having guest-starred on hit shows such as Prison Break, Supernatural and Travelers, it seems there is no stopping the formidable actress; and as The 100 comes to an end, she is already eyeing her next project, focusing on the marginalised within society today.
Not afraid of confronting topics that others might find uncomfortable, Teles is a champion when it comes to the rights and opportunities of women. Her appreciation of community very much has her on the path for collective change, with special attention to the suppression of women all around the globe.
1883 spoke with Teles about the reflection of society today in The 100, whether or not the story will have a happy ending, and why she likes pretending to be a cat.
On your website, there is a brilliant quote about loving life. What part of your life are you most in love with and why? 
Oh, man! I think one thing that I realised especially during COVID-19 times was how much community is important to me; how much I like being around other people, being social. More than that, I love connecting with younger girls and I love talking to them [and], mentoring them and creating a community with them because I just believe in the power of young women. They need more mentors, more women to look up to who talk to them, who guide them and help them through all the different things that life has in store for them. That has become something I find huge joy in. Also, just being creative and being around other artists and making good content and making good material and talking about different issues. Those are all things that really light my fire these days.
I feel like you have a quote for every situation, is there a favourite quote you revert to the most?
Oh, I have a couple! There is one that Marianne Williamson said in her book 'A Return to Love' and Nelson Mandela used it in his speech, and it is really beautiful…
'Never doubt that a small group of thoughtful, committed citizens can change the world; indeed, it's the only thing that ever has.' That's one quote [by Margaret Mead], and I really want to share the one [by Marianne Williamson] which is 'Our deepest fear is not that we are inadequate. Our deepest fear is that we are powerful beyond measure. It is our light, not our darkness that most frightens us. We ask ourselves, 'Who am I to be brilliant, gorgeous, talented, fabulous?' Actually, who are you not to be? You are a child of God. Your playing small does not serve the world.' Like I just got chills, I love that quote so much!
Have you had time to get involved in any personal projects?
I definitely have. I've been developing a few ideas –– one of which, is looking at a way of creating short films and stories for people who don't have a voice. A lot of marginalised views and people who have access to the same things I have access to. Then, also hiring young people who want to get into film and giving them a bit of a jump start.
This is such a great cause that should be looked at more…
Absolutely, I don't know if you've seen the show Dear… [but] they pick certain celebrities. There's Oprah, Spike Lee, Yara Shahidi, etc. from all different industries and it follows stories of people they have impacted. It was so beautiful. There was something that stayed with me and it was that we have [to] help others as we go up as well, especially people who are marginalised and have no voice. Film and TV do that in terms of creating the paradigms we live in and the stories we believe and so when there is an only white male narrative that is dominating the television and film storytelling, that's how we see the world. So, the goal is to use film to create a more democratic society and that stayed with me.
You're involved in the amazing project, Unslaved. How did you become part of this and what is it all about?
Well, initially it started many years ago with me and my girlfriend. I was telling her I'd read this book called 'Half the Sky' [by Nicholas Kristof and Sheryl WuDunn]. It was about how women are repressed globally in different ways and it talks a lot about human trafficking. I was really impacted by that book, [and] I wanted to think of ways to raise money for it but didn't know-how. I have a restaurant [The Parlour], so we were talking about doing an event or something. I was at a photoshoot which was for a jewelery line and the lady was like, 'Why don't you make bracelets and call it Unslaved and sell it online? Raise money for it that way.' I was like, 'That's beautiful, and I love that.' Over the course of time as I was developing that idea, things just kind of unravelled and then recently I have decided to rebuild it on my own which has been quite a bit of work.
Are there any stories of injustice you would like to see made into a film and star in? And who would you play?
Oh, my goodness, I mean take your pick. One of the other projects I'm working on right now is writing a script about mental health. It's so beautiful that today we are able to talk openly about these things more and more. I was thinking of writing something like a personal take on my life with glorified twists.  Like different, but influenced by my life's events to explore some of that discussion. In terms of someone to play today, I don't even know where to begin. I do have this mild obsession with Cleopatra. I find her fascinating; she was one of the most powerful women in history and after she finally passed, they tried to completely erase her from history. I think this is a common thing with women in history, so her legacy really fascinates me, and it is something I really want to work on.
The 100 is coming to an end soon… What will you miss the most? 
I will miss the familiarity of the characters and the story and the excitement of how many twists and turns in the plot. I never really felt like I ever knew what the next step of the script was going to be; there was always a little bit of fear with the script like, 'Is this the one where they kill me off?' It's kind of like high school: you spend a big chunk of your life growing and learning and you have a beautiful little ecosystem. Then when you get to Grade 12, it's very nostalgic because you go out into the world and miss your friends but you're excited to test yourself outside in the world. I'll miss the average day-to-day stuff [and] all the laughs.
This season is about finding peace with living together. What can we expect? Does this mean we are going to get a happy ending?
I'm not sure what people will think about the ending –– that's something that I'm very curious to see. It's a hell of a season. I actually think it might be our best. There's a lot of things that are unusual and different from our previous seasons and because of that, I think people can expect to really be taken for a ride. I love the scenes at our show's core; I find them so relevant to today in terms of listening to each other, understanding one another, and living together in peace and colour and acceptance of each other abandoning violence. Whether it's a happy ending or not, I guess is subjective.
You're so right that the theme for the season finale is reflective of society right now… What would be your three top 'take homes' for living together peacefully?
Number one is learning how to communicate effectively, [with] non-violent communication which includes, of course, all the obvious violence like physical aggressions but even just ignoring somebody or being sarcastic. Learning about another culture is a big one; taking the time to understand how another society or group operates and feels is really important. I think ultimately it all comes down to leading with your heart. I think our heart has an intelligence that is undervalued. Our intuitive compass is always the right way to go and I believe that is fuelled by your deep sense of self and values in your heart. If you truly listen to your heart, it will always tell you to not be violent and to find ways of being peaceful.
How do you think Echo has grown over the seasons?
I would say Echo has gone from being an extremist with a very black-and-white view of the world to someone who now understands grey tones. Someone who takes more time to process a decision. She's still very decisive and stands by what she says and how she feels ruthlessly. She'll defend and protect her family, of course, but she was a lot angrier. She's evolved from being a prisoner and tortured, then we got to know her as a spy and [to who she is now] after finding love of course! She has evolved to someone who is a lot more docile and a lot more understanding and sympathetic, and I really love that. Last year, we actually saw that she had to kill her friend and gained the name Echo. There's a lot of trauma that she has gone through, and I hope that the evolution she arrives at is reclaiming her personal sense of identity [and] putting the last little pieces of trauma behind her.
The season has confirmed, if there was any doubt, what a warrior Echo is. She's smart and decisive –– but are there qualities in Echo you see in yourself?
Definitely. When I want to do something or get something done, I can become laser-focused, to the point where like none of my friends want to hang out with me! I'm just like, 'I have to do this and put all of my being behind it.' That determination and resilience is definitely something that she and I share. She's a lot stronger than I am but she is also a lot more serious than me. She doesn't show all of her cards whereas I'm very emotive; I express quite a bit!! So, playing such a still character was quite challenging for me because I could not stay still! As I learned to stand in my power by embodying Echo, I actually learned so much about strength and stillness.
If you could write a spin-off for Echo, what trials and tribulations would you like to tackle? 
I would love to see her in an actual leadership role… I would like to see her in a darker version of that. She's gone through so much and seen all of these things, so ultimately, if there was a spin-off after the show, maybe she decides she's jaded, maybe she's lost all of her family. We don't know where she ends up in this series, but I worked on a character once for a video game, and she was a pirate queen and she had this really amazing way she sat on her throne and the way she would deal with people. I would love to see Echo doing that because it would be such an interesting character to me. Not only is she capable of doing such awful things, but she's also been in love so she will have that conscious duelling with her all the time. I think that would be really cool to watch.
The short cuts on Hope and Echo drove fans crazy online… How did they get those haircuts from each other?!
Oh, for sure they did! You know that [when] they were doing each other's hair, they were together for five years training, braiding each other's hair! Until one day, they were probably like, 'You know what, screw it!' There was talk of what they were going to find on the other side of the bridge and so with that, there was some discussion on what their hair would look like. Our poor hair department spent hours over days and days trying to figure out what it would be and as we got closer and closer to the shoot date, we were like which ones were they going to be. Right before my scene, they just figured out that that would be the look; they were cutting the wigs and doing it right there at the last minute. Anyway, we went with that haircut and I actually ended up in Hope's wig!
Finally, I hear you like to pretend to be a cat. Please tell our readers more, like how often do you take on this role and how do you get into character?
Oh my God!! That is the funniest question.
I was reading this book on acting and one of the chapters was an exercise where we had to do that and I found myself walking around the apartment and sitting at the window staring outside, watching birds fly by and grooming myself like a cat. I just burst out laughing after about 10 minutes of doing that, like this is crazy and I'm like this is what I do for a living! I actually do it quite a bit! I don't sit at my window perched like a cat, but I think I might be part cat or part lioness. My living room has a 10ft by 15ft carpet with mostly space, and I just love rolling around on it. I do this once or twice a week; my friend came over on Saturday and we were both doing it. We were actually saying we need to get a big cat pole –– like, wouldn't that be great!
Team Credits
interview by Hannah Shin
photography Carl Ostberg
styling Lulu Liu @ RM Artists
hair Ashley Gesner @ RM Artists
makeup Karla Cruz @ RM Artists
Watch The 100's final season Wednesdays on The CW!
[embedyt] https://www.youtube.com/watch?v=9t6QhZ0oeL0[/embedyt]