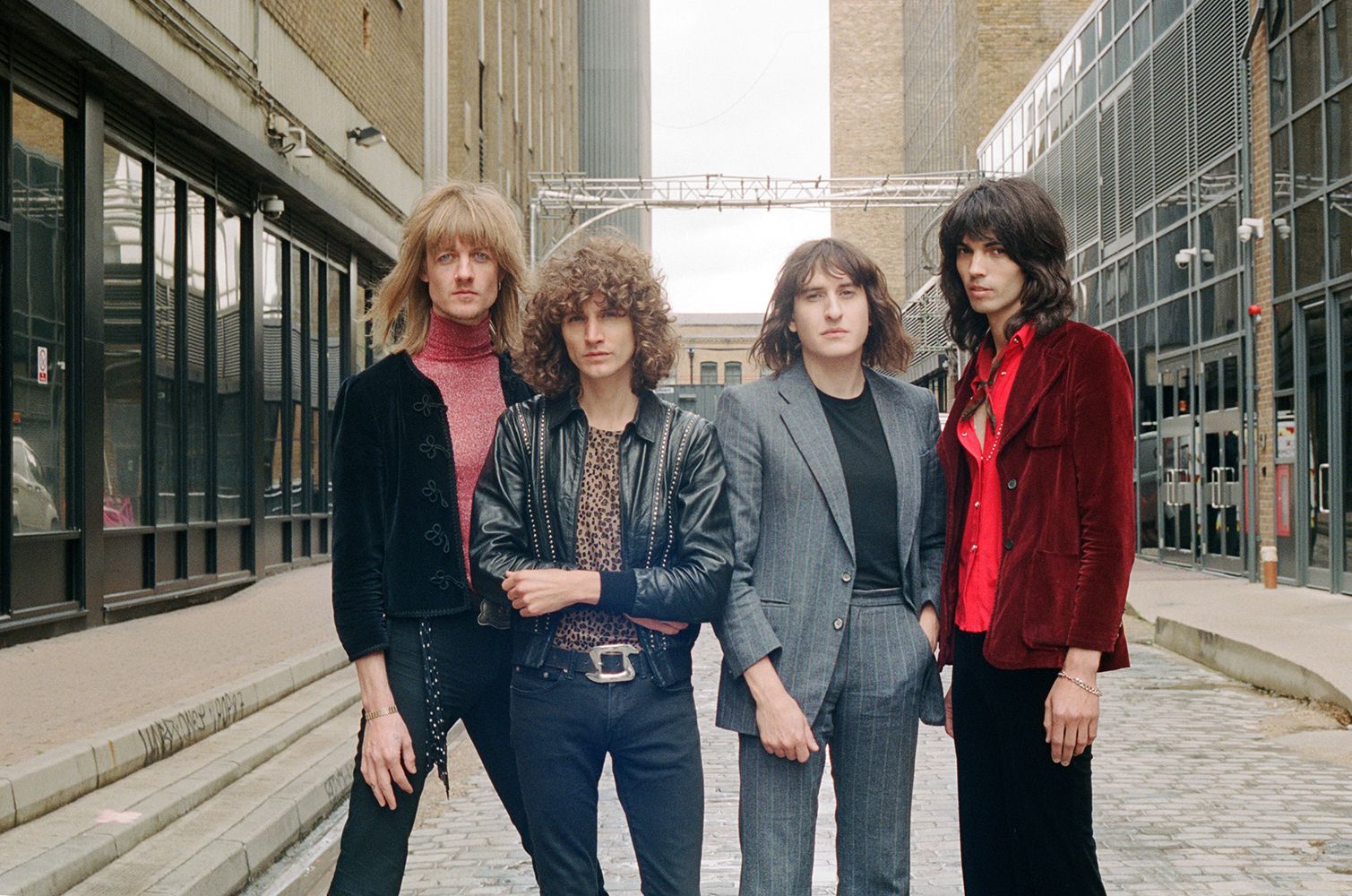 Temples
The global pandemic made the psychedelic indie band to take a step back from performing live, but their immense, seamless flow of creativity never ceased during that period. 
Having just returned to the live environment, where they delivered a crisp set on the main stage of Mallorca Live, they ensured it was an uplifting and vibrant event for the immense festival crowd of fans. 
While year 2020 saw the release of their compelling single Paraphernalia, the gifted quartet continued to progress the work on their fourth studio album throughout 2021, the album is now complete, and ready for release.
1883 Magazine met songwriters James Bagshaw and Adam Smith from Temples backstage at the Spanish festival for an post-show catch up to find out more about what has been occupying the group, and what creative projects they worked on. 
Your set sounded magnificent, how did it feel to play your first show in a long time? 
James: thank you. It was so nice to be able to play to people. Because the four of us have been rehearsing, playing together in the last week, playing the songs from previous albums. 
We have also been in the studio, recording the new record. This week we spent a lot of time with each other, and we couldn't have finished the week better by actually playing a gig. It seems like the fans enjoyed it.
The setlist was great, and it was nice to hear some of the new material as well.
Adam: yes, there was stuff from the first record, a couple of songs from the second, and something from the third. But we are also just itching to play stuff from our new album, the one that no one has heard, but we have to wait around for a bit longer.
How much can you talk about the new album? Does it sound significantly different to Hot Motion, are you moving in a new direction?  
James: it's some of the most translatable 'live' songs that we've ever written. Because sometimes, when you get a studio, you layer up things, and you don't always think about performing it live. With these new tracks, we've even rehearsed them a little bit this week, focusing on the idea that we're going to play them soon, when the record comes out. 
They have come together quite quickly, which is nice, but that doesn't mean that they're simple. It just means that they translate in a way that's achievable. We don't need extra musicians, and we don't need to rely on special effects. It's like the songs just speak. 
How would you describe the sound of the new record then? 
Adam: it's difficult to say, in a way it's all over the place, in the best way possible. Some songs are a bit more distant. But strangely, it does fit together, which is amazing. We've been really careful in making sure that the songs are cohesive. 
You also played the most recent single Paraphernalia earlier, the track seems to have a different sound? 
James: yes, it was the first time that we played it live, we have been busy working on our new album, it is very diverse, yet it sounds like a Temples record. For us, if you can do that, and still believe that you've done it well, then it is the best feeling. The last thing you want is for the record to sound disjointed, and sound like ten different bands.
You described it as being diverse. Aware that there is an Eastern influence, were you always listening to different kinds of music, or do you just discover something new, one day?
James: it depends on when, and on the situation, really, it changes a lot. We are very much a collective of songwriters. We work on new material alone first. It's instinctive, you're not thinking about anything, you're just trying to write a tune, then what we do is, we put those songs together, and we present them to each other. Adam will say 'have a listen to this song', it'll either be an instant 'yes' or 'this has got potential, and I'll show Adam a song I have written etc. 
We tend to just go with instinct, and this record I feel is a strong collaboration, we've always cared about how an album works, but this time around, there's more songs, and it's a longer one.  
Adam: it is a conceptual record. 
James: it's conceptual, and it's very much a journey through an album, it's not necessarily just psychedelic, we're opening our songs, and hopefully people will enjoy listening to them. 
What can you tell us about the process of recording the new record?
James: This record was recorded over three places, one of which got mentioned, because it was at my house, Hot Motion was pretty much done there. So we started off there, then we moved on and went to a studio, we did a bit of recording there, we were figuring out some of the songs, just getting it out, and then the next place, which we can't mention, but it was special. 
Temples are admired for their European connection. You also collaborated with a Spanish artist, and I believe that there may be a connection to Rufus T Firefly, who's playing Mallorca Live. How did the work with Anni B Sweet come about?
James: Yes, that's right, and I recorded Anni B sweet. The Spanish connection goes back to before any of the collaborations happened, and the Spanish audiences have always connected with Temples' music. 
You're very creative as people. Do you have other projects in the pipeline that you can tell us about?  
James: Adam has been working on some novels, and he is also doing a solo music project. 
That sounds interesting. Does the music sound very different to Temples? 
Adam: Yes, it does, but it's not worlds apart.
How about you, James, do you also have a solo project on the go? 
James: No, it's mainly Temples, a bit of gardening, and I produce records for others. Sometimes, people contact me to say they want me to produce their songs, and you've got to try and see the potential, if you can help these people, and make them sound great. But sometimes, if something isn't quite right, then you just can't, and that's no disrespect to them. Then it just does not align with my values as a musician or as a producer. 
That's fair, do you find easy enough to be completely honest in those situations? 
James: You have to be honest with music, and I hope other people are honest with us, when we work with other people, whether it's producers or other musicians. The producer we just worked with is very honest, and when an idea was good, we felt really proud of it, but when it wasn't quite as good, we didn't cry about it. It was more like 'I respect that, let's try something else instead'. The thing is that we've never really had a producer before, so it was interesting to sit there and work with someone else, and then three hours later, or ten caffeine drinks later, we would know the end result.
But on a more personal level, it must be challenging to receive feedback whether it's positive or negative.
James: Absolutely, but even when it's not positive, we do not take it to heart. We've only ever had one label, who would say 'this isn't quite right', our label don't get involved, they don't tell us that it's the wrong chord, but they will say 'this chorus doesn't feel like it's in the right key'. It's a deeper level, there's more to it than just the chorus not sounding good.  
It's a stronger musical relationship. It's not about it being successful, it's purely passion-based. It's like 'this chorus didn't hit me as much', we want to be making the song as good as it can be and make an idea as brilliant as it can ever be. You can't always do that by yourself, sometimes you need a little bit of someone else saying what's great, and what isn't. It's good to have other perspectives.
One thing I've always admired about Temples is that you always seem to make the music that you want to make. You don't respond much to commercial demands or trends. 
Adam: The moment you start trying to appeal to somebody in the audience, you end up making something that's compromised, and they won't like it, because it doesn't have the same intention, and it isn't the thing that got you there in the first place. Our first record got us there, because we weren't thinking about anything other than the music that we liked. 
With the second record, we started thinking more about other aspects, and by the time we were on to making our third record, we didn't think about it as much. But this new record is has been really freeing, and we hope that people will love it. 
Does your current record label share your work ethic and creative values? 
James: they are very hands-on, in a good way. They respect us as people. It's just one of those things, where they have got great bands on their roster that we really respect, too. We don't really compare to anything on the label, but it's all about making great music. 
Follow Temples via @templesofficial
Interview Susan Hansen
Photography Eleonora C. Collini