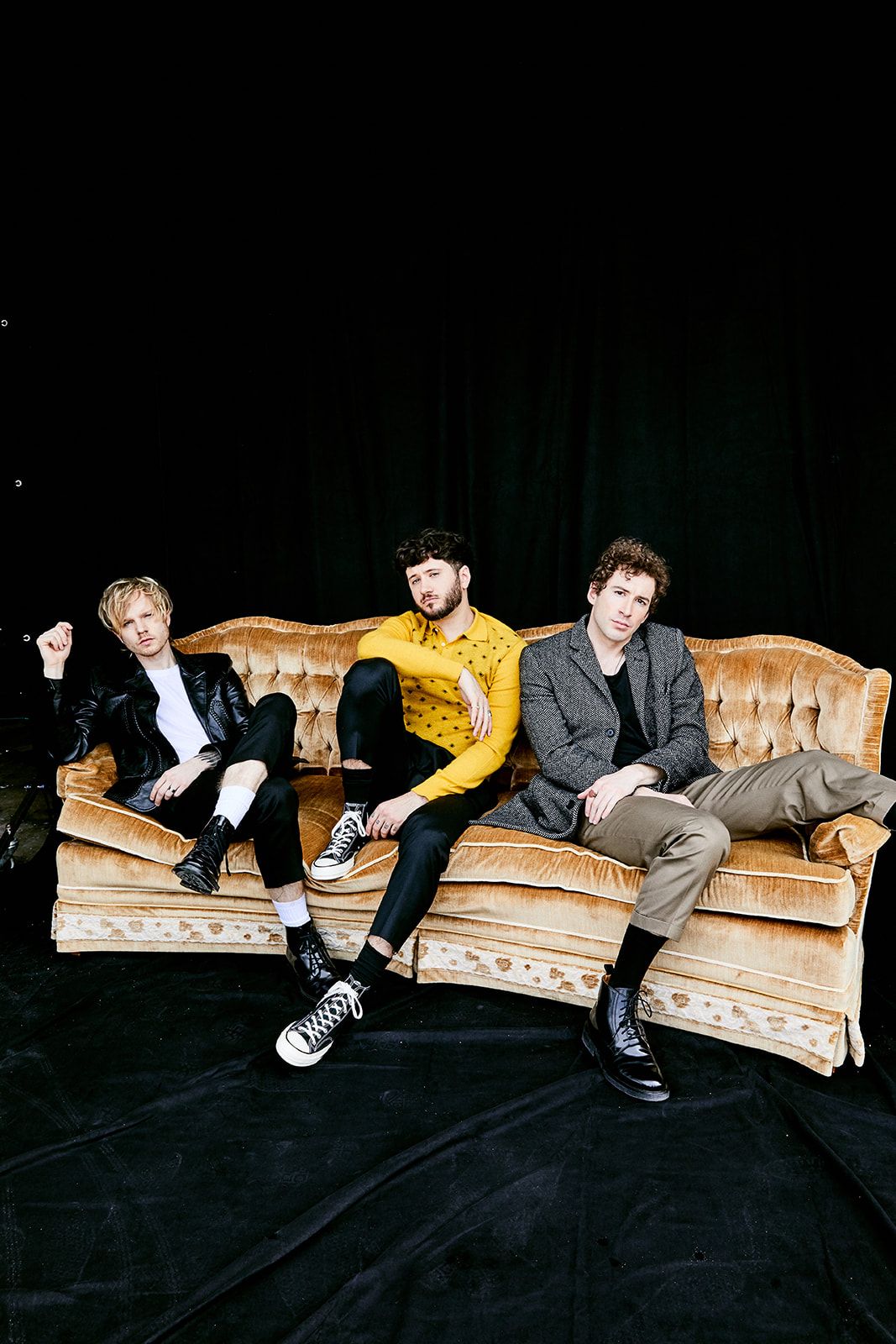 The Band CAMINO
Although they might humbly describe themselves as "just guys being dudes making music," it's clear that The Band CAMINO's self-titled debut album will solidify them as music's next big thing.
No matter what your favourite genre of music is, The Band CAMINO will likely be the top artist on your Spotify Wrapped this year. Memphians, college friends, and founding members Jeffery Jordan and Spencer Stewart (vocals/guitar) transplanted to Music City in 2018 where they recruited Garrison Burgess (drums). Over the ensuing years, the Nashville based pop-rock three-piece has created and honed a signature sound, signed to Elektra Records, garnered 2.6 million monthly Spotify listeners (one of which was confirmed to be Taylor Swift when she added a 2018 track "Berenstein" to a public playlist) and over 330 million global streams, and sold out two headlining tours. Now, they are entering a new chapter.
The band's latest milestone — the release of their self-titled debut album — proves that Garrison, Jeffery, and Spencer have a long career ahead. While the record isn't a huge leap from their 2019 EP "tryhard," it serves as an expansion of their tastes and talents. There are still plenty of electric guitars, pounding drums, and bouncy keyboard solos, but the relatable and often reflective lyric fans have fallen in love with are also tracked by 80's synths, arena-level rock mixes, and even a slight country bend. It's rare to find a debut that establishes an artist or band's identity without building boundaries or expectations for a certain sound, however, The Band CAMINO has done just that.
1883's Sydney Bolen caught up with The Band CAMINO to discuss their self-titled debut album, their growth as artists, which songs they are most looking forward to playing live, and more.
Congratulations on the album. I loved it!
S: Excellent!
J: Thank you so much.
Before your self-titled album, your last release was "tryhard" in 2019. How do you think you've grown personally and as a band since?
J: Personally, I think we've all had a crazy past year and a half. Everyone has.
S: Yeah, definitely.
J: We've had way more time to write music than we've ever had. We started the band in 2015 and we've basically been touring nonstop since. It's always: Spring tour, some Summer shows, a Fall tour with writing and recording scattered throughout. With touring put on hold, the process of recording this album was a totally different experience. We had more time on our hands to focus on writing. I think we all grew as songwriters. We were able to lean into our production, what we wanted to do and the music we wanted to make.
S: I feel like my social skills might have regressed a little bit.
Me too, honestly. [laughs]
S: Garrison got married! That's a big personal thing.
Congratulations! That's amazing.
G: Thank you! It's pretty wild that it's already been almost a year and a half. For us, I feel like COVID time went by so fast. Rachel and I got married in June 2020 and we had made the record. 2020 was a great year for my personal life because I got to marry a woman I love and make a record with the boys that I love. I had a good time.
S: How sweet it is to be loved by you, brother.
J: We all got pretty domestic over quarantine. I've been in a relationship since a little bit before it started. I got a dog. I feel like we're turning into some dads.
S: I've been working on my "father's body." I don't call it a "dad bod" anymore because I feel like there's not enough respect for it.
G: It's time to hit the gym for sure, but you know, there's time [chuckles]
Correct me if I'm wrong, but tour usually helps with that as well.
S: Totally.
G: Correct!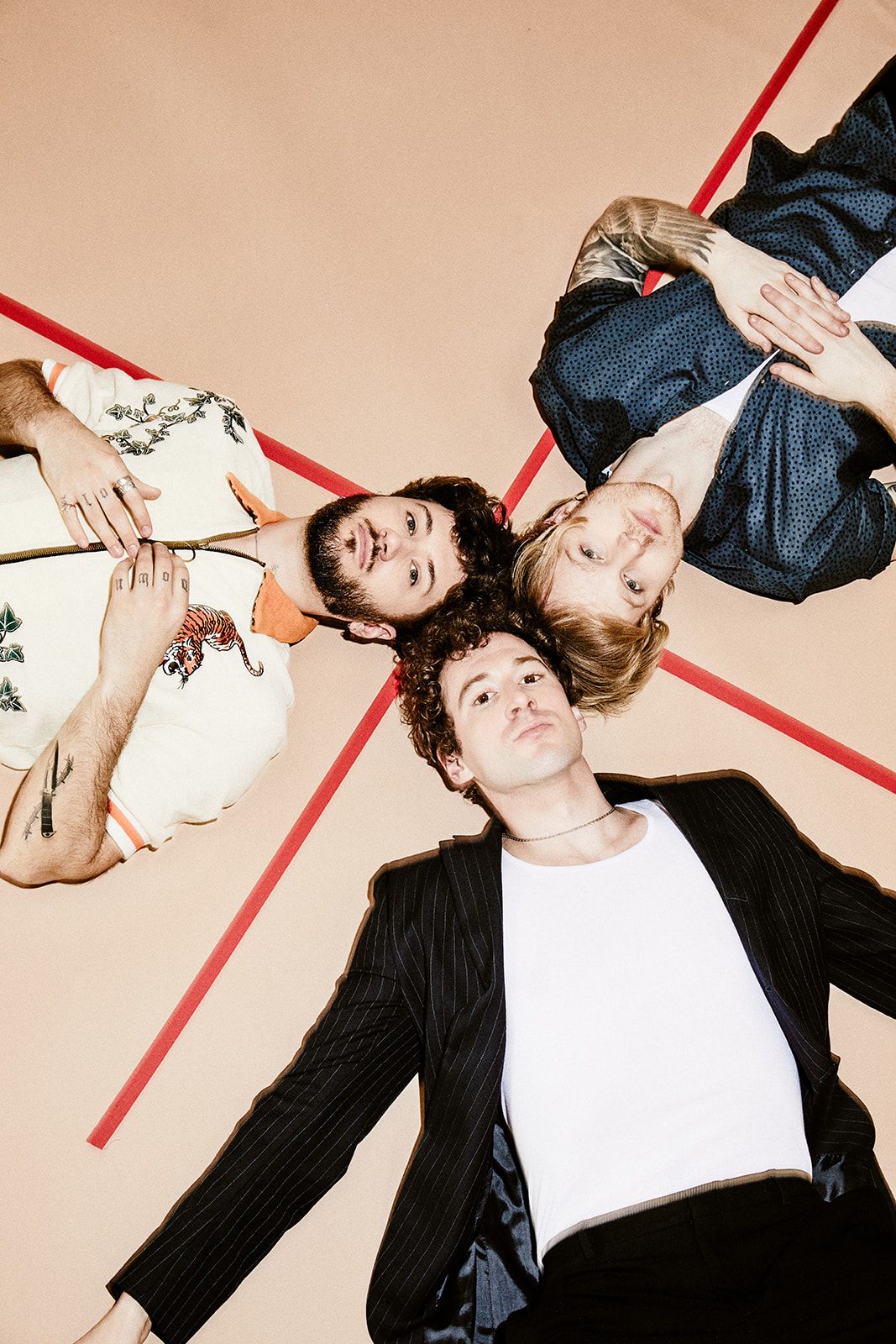 During the pandemic, the band went through some big changes. You were set to open on 5SOS' No Shame Tour 2020. As you mentioned, you had to shift your focus from gearing up to do live shows to buckling down and focusing on the album. What was that shift easy mentally or did you take some time to adjust?
J: It was easy at first because while we were not excited about the situation at all, we knew we were going to record the album like that summer. We thought we were going to have to squeeze it in between the Dan + Shay tour and the 5SOS Tour, but it was on our radar. At first the fact that we now had all this time was sick, but then as that time just kept getting longer and longer and the time when we were going to be able to play a show kept getting farther and farther away, it definitely got harder.
G: The only reason I'd say it was easy was because there was no choice. We played three shows with Dan + Shay, and on the way of the fourth in Philadelphia, at like four in the morning, we heard "Shows canceled!"
S: Our tour manager walks in and turns on the lights. We're like, "Are we here?" He just shook his head and said, "We're on our way back, my man."
G: So, we just wake up in Nashville at like noon. We U-turned on the highway.
S: At first, it was like, "We'll see you guys in two weeks after this full quarantine we'll just be right back on." Flash forward to a year and a half later.
G: Little did we know…
S: It gave us a lot more time to buckle down and start writing songs. To go along with these guys, I think it was pretty easy to shift. We were already writing before that anyway, with each other and with other people.
G: As I'm sure you know, things in this industry pivot so fast. No matter what, even if COVID wasn't a thing, tours can get dropped. Our manager Jameson [Roper] was ready as soon as we heard that more things were shutting down. When that happens, gears start turning for something else. I feel like we all felt that shift. We want to keep working and making good music. Now, we're back playing shows again which is super hype.
S: It's the best.
Because you had so much time to work on the album, was the finished product different than you thought it would be originally?
S: I didn't have any preconceived notions of what it was going to be.
G: I'd say yeah.
J: We would not have written the songs that we did had the year been different. Some of the same songs would have been there, but a lot of the songs that made it onto the album were songs that we wrote pretty close to the time that we needed to record. If we had been on tour, we wouldn't have written them, so it is different than it would have been. I can't say if it would have been better or worse or what it could have been, but the year we had had a major effect on what it became.
S: I think the subject matter was a little bit different. We started talking a lot more about finding a way to be happy. Obviously "Roses" is out and it has a similar message: Life's not all that bad. Even though all of this stuff, you can still find a way to be happy.
One of the things I love about this album is, while it is distinctly The Band CAMINO, there are so many different sounds and styles within it. As a listener, it made for a really intriguing experience and really showcases the band's artistic abilities. When you started making the album, since it was your debut, was this the goal?
S: I think so.
J: Yeah, I think we picked the songs we did because we wanted it to be diverse. We wrote so many songs for the album that we could have made so many different albums out of what we had to choose from.
S: We definitely picked songs to showcase the full spectrum of the music that we like and that we like to make.
J: We went into it, like Spencer said, without any preconceived notions about what the album needed to sound like. We weren't trying to make a rock album or a pop album. We just wanted to make music that we like. Hopefully, it sounds cohesive and the process of making it will tie it all together.
S: Something that Jeffrey says a lot is that, with Spotify and playlisting, genres are starting to become more fluid and are starting to lose traditional guidelines. That's something we always hang our hat on. You can be whatever you want to be as long as it's cohesive and it's still the band, you can make whatever type of music you want.
J: It's a big shift right now. Even if you look at bands from ten years ago or from the 2000s that were making pop-punk music, even those bands that are still around now, stay in their lane and continue to make pop-punk music. It's not that we want to sound like a different band with every album or single, but we can do all these things while still maintaining our identity as The Band CAMINO.
S: I feel like the perfect example of that is the fact that we would have been on the Dan + Shay tour, and then later that year have been on the 5SOS tour. Those aren't similar bands, but it would have worked for us because we didn't limit ourselves to being one type of thing.
G: I come from the same background of just wanting to make music that you like. To be completely honest, it was one of those things that I heard about The Band CAMINO before I joined the band. They went from "Daphne Blue" to "Fool Of Myself" to "Thoughts On You." They had all these songs and on one hand, listening to it doesn't make any sense whatsoever, but on the other, it does. I got it. I was like, "Yeah, they're just guys being dudes wanting to make their music." That was one of the biggest things I was so excited about.
One of my favourite songs on the album is "I Think I Like You." I was surprised by its 80's pop-bent sound. What in particular inspired the track?
S: I remember the day that we wrote it we were in Colorado. I was writing with our producer, Jordan (M. Schmidt), and I told him I wanted to write a disco song. I wanted to write a song with really straightforward drums and a Talking Heads sort of sound. I really like to try to stretch everything as much as possible even if it sucks because at least we tried something new and tried to make something we wanted to hear that's a little different than what we normally do.
J: I think you always need to try to push the boundaries, the more extreme the better. It's not like it's an extreme song, but it's a little bit extreme for us as far as where we usually go.
S: Totally.
J: That's a very Spencer song, too, in terms of the melodies. I didn't write that song, but as soon as he wrote it I went downstairs and heard it and was like… Woah. This is sick. This is crazy. It's very out of nowhere. It sounds so different from anything else we have, but, as you said, it sounds so 'The Band Camino' at the same time.
S: It's all about the setup. You want to set yourself up for down the road, so you can just keep doing whatever you want and it doesn't feel out of left field or if it's out of left field, it doesn't feel weird because that's what we've always done.
J: Our voices are always front and center, so you have that human element to tie it all back to.
On the other side of the spectrum, "Just A Phase" is more of a rock song and the intro gave me chills. It instantly transported me to a live setting. What made you decide you keep the sigh before the vocals.
S: It's always kind of started for us at the live end, so we try to keep it as honest as possible. I think that one of the common threads of our music that keeps it consistent and cohesive is we can play it live. Our songs, especially this one, can be pulled off live. We have parts of songs that are a little grander and built out, but for the most part, it's all possible in a live setting. When we're creating songs we think about how they would come across to an audience, about how people might react to a song. That specific part of 'Just A Phase is a very straightforward example of that on the record.
J: Even when it came to picking songs for the album we were always thinking about how that would translate to a live setting. That song, 1 Last Cigarette, Know It All, you can already feel those songs being played in front of people. In some ways, it's harder to pull off live.
S: Yeah, it just doesn't hit the same when you're not playing all the parts. So far, it seems like everybody likes it. I'm sure they're very confused because it's another one of those songs that come out of nowhere.
Another stand out for me was "Who Do You Think You Are." I'm a sucker for a song with deep lyrics and a bouncy track that shrouds what is being said. Was that an intentional choice or was that just how the song happened to come together?
J: We're also suckers for that. "Fool Of Myself" and other songs we have are very bouncy, but if you listen the lyrics don't match the sound. It was pretty intentional. We wanted that to be the vibe.
S: We were referencing a lot of Jon Bellion. As you said, it's nice to have multifaceted songs. If you are a lyric person that's going to be your first pick song-wise, but if you're just looking for a vibe and you're not necessarily looking to get super reflective, the track is hopefully good enough to stand on its own. There are layers to it. There's a juxtaposition between how happy the track is and how deep and reflective the lyric is. Giving listeners options is always good.
J: Jon, if you're reading…
S: Yeah, Jon if you're reading this, we love you.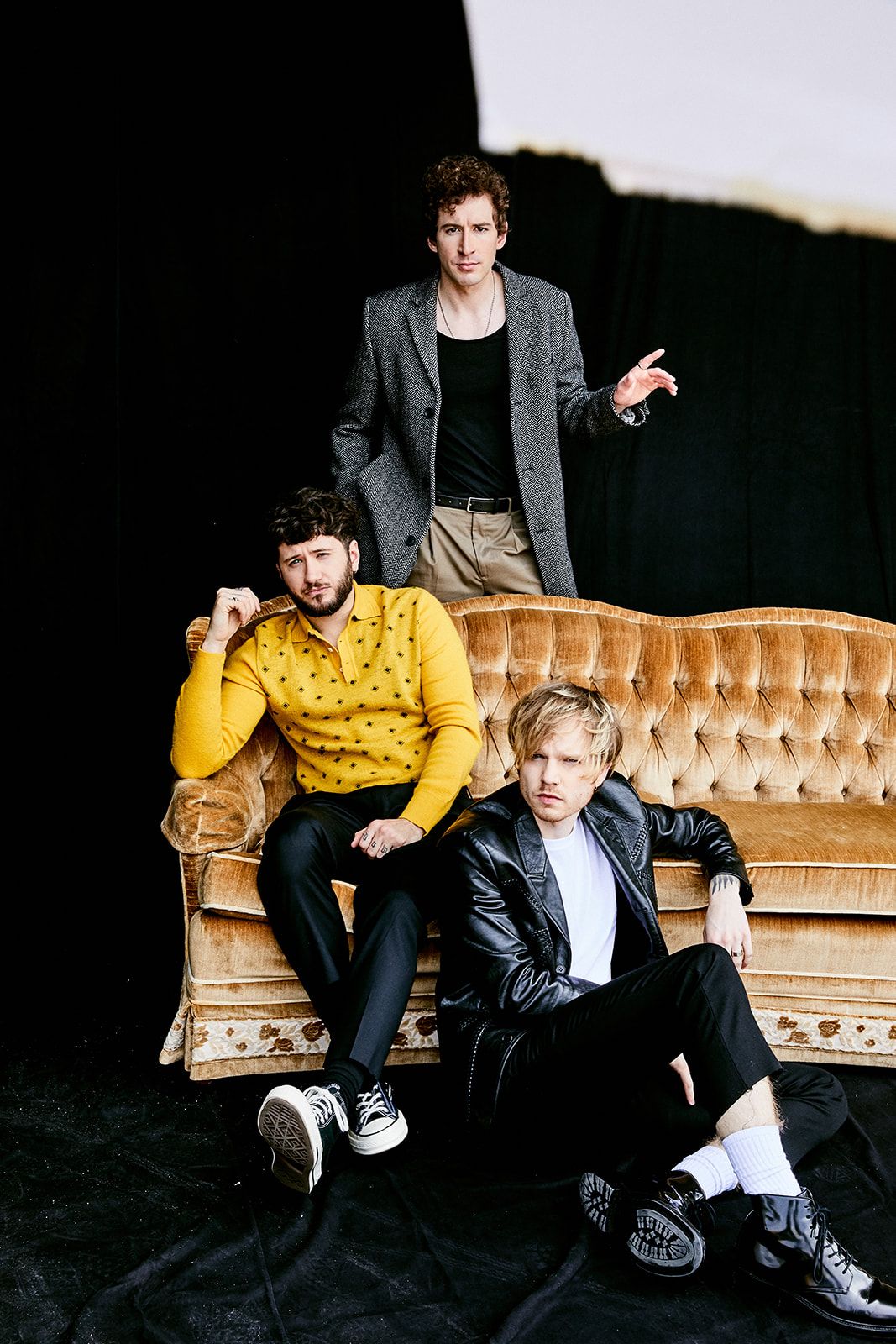 [Laughs] While we're on the topic, what other artists inspired the album?
J: Oh god. This is the pinnacle of every piece of music we've ever liked. It's all been mixed up and put into this album.
S: More of more or less, yeah.
J: We all grew up on different things. We all had our upbringing. We all grew up in church. All of us were in worship bands. We all have that emotional element instilled in us. Our very first song, 'Young,' sounds so much like a worship song. Worship music is great at evoking emotion.
S: Yeah, it is.
J: We all came from that. I had a country project when I was 18. I was full-blown trying to be Luke Bryan. It was just a phase.
S&G: Hey! Ay! [chuckles]
J: Spencer is way more into modern music. Meeting Spencer made me listen to music with different elements. He makes all the cool playlists. I'm like, "send me playlists." He shows me new music all the time. He's fresh with it.
S: I'm fresh with it.
J: [chuckles] He has great taste. Garrison grew up shredding. His dad shreds. He shreds.
That's cool!
J: He played all the bass on the record and the drums, obviously.
G: Jeff was on one of the drums.
J: On one day! One day, we were like we're going to sing this one song and I'll lay it down.
S: In terms of actual artists, the ones I can think of off the top of my head are: Jon Bellion, John Mayer…
J: John Legend…
S: All of the 'Johns.' Also, bands like Pinegrove. Phoebe Bridgers, The Killers, Taylor Swift, obviously.
Oh, always.
S: Always.
J: every time.
G: A mix of stuff you've never heard, actually probably you have heard of because you like music, and the biggest stuff like Taylor Swift and John Mayer, The Killers and Coldplay meet a sad indie kid.
I expected it to be a lot because, as I said, there are a lot of different sounds on the album.
S: Right.
There are also a lot of catchy hooks on this album. Honestly, it took me forever to get through the whole thing because I kept repeating songs that I had just listened to. To avoid me literally asking about every song, I was wondering what each of your favourite songs was and why?
J: Oh that's hard. 'Who Do You Think You Are' has definitely grown on me. When I first wrote it, I didn't even realize how it came across because it was a very personal introspective song. I was like "Okay cool. I don't know if anyone else would care about this." It was a pretty neat thing. I related to it, but pretty much everyone we showed was like, Dude, this should be on the album." Then, once we recorded it, it just keeps coming up. It makes me feel very understood because I didn't know if anyone was going to relate to it, but everyone has been like, "This really speaks to me." So that makes it feel really special to me. My other favourite is 'Help Me Get Over You.' I'm a sucker for a ballad. I can't wait to play that one live once it's out and hit everyone in the feels.
G: I'll pick two. 'Just A Phase' was my original answer for this. "Just A Phase' is so much fun to play. The drumline rips harder than probably any Camino song that's ever been. But live my favourite is 'I Think I like You' because I can shred. Long story short, the drums that are in it are the demo drums. I didn't play drums on that song. We tried it and we were just like," those demo drums are the vibe." The really highly compressed 80's drum works. But, live I just get to do whatever, just chop out and have a good time.
S: I'd say 'Underneath My Skin' is one of my favourites. Just because it's really easy to listen to and you can find a new thing that you like about it every time. That's the one I listen to the most while I'm driving around. The band mix on that song is one of my favourite mixes that I've ever heard. Just for the sake of being different, my other favourite is 'Look up.' That one was really fun to write and I got to play bass on it on like a really shitty cheap bass.
G: Again, the demo bass.
S: The song is a vibe, and it's a message that I enjoy. Jeffrey and I got to write that one together by ourselves. I felt like I was super cool and special.
J: We were probably only supposed to give you one.
S: We gave you 6/14 instead.
[laughs] I didn't set any hard and fast rules. Garrison touched on this a bit, but the tour with Dan + Shay kicked off yesterday. What are you looking forward to most about getting back on the road and which of the songs off of The Band Camino are you most excited to perform?
J: I'm just excited to play shows. When you, when you start a band and you don't really have any music out, you just like book shows and you play bars and college gigs and parties and just build your whole career on playing live. So, not playing has felt like a major part of what it means to be in a band is has been missing. Even if it was for 20 people or 30 people or it's for almost 15,000 like it is with Dan + Shay, just to get to play means so much. We could even be rehearsing. We have been rehearsing so much and have been like, "This is so fun." and then it's only for our sound guy, Bill.
S: It's like being on any team, a sports team, or whatever.
J: I never was on one of those.
S: Well, it's the same idea. It's a cool camaraderie whenever you get to all have a common goal. You all want the same thing and you all have your roles to get there. There's just something to be said about that. Truthfully, I think there's a lot of joy that comes from having a larger goal and having a community that believes in that goal on the same level. On this tour, I'm most excited to play 'Help Me Get Over You.' I think it's going to go over really well.
J: Funny story too. We wrote that song with a guy named Jordan Reynolds, who is pretty good friends with the Dan + Shay guys. He also wrote 'Tequilla' and 'Speechless.' Now, we're going to get to play a song we wrote with him.
Oh, That's really cool!
J: Yeah. It's really gonna fit in on the Dan + Shay tour.
To close, what do you hope people take away from the album after listening to it?
J&S: To feel good!
J: I feel like sometimes you get into those periods where you just want to find new music that you can listen to all the time. I hope that this could be that for someone. I said this the other night at a show but everyone who's playing music or everyone who wants to make a career out of making music will have that point in their life where music made them feel so good. So, I want to make other people feel good the way that music makes us feel.
G: I would agree with that. I'm stoked that it's coming out, that people can do what they want with it. I'm stoked to see what comes back because we've been sitting on it for almost a year. I still think they're pretty good, I just hope everybody else does too.
They're good.
[All laugh]
G: Good. I'm glad you like them.
S: Yeah. To sum it all up, I hope it makes everyone feel like they have a place and that their feelings are valid. If you don't like this song, hopefully, you like this other song. If you don't like any of our songs, then hopefully you just like us as guys. The main thing is we're trying and we want everyone to feel the way that we feel about music. That's why we spread ourselves so wide. We want everyone to feel like they can like at least one of our songs.
The Band CAMINO's self-titled debut album is out now.
Interview by Sydney Bolen