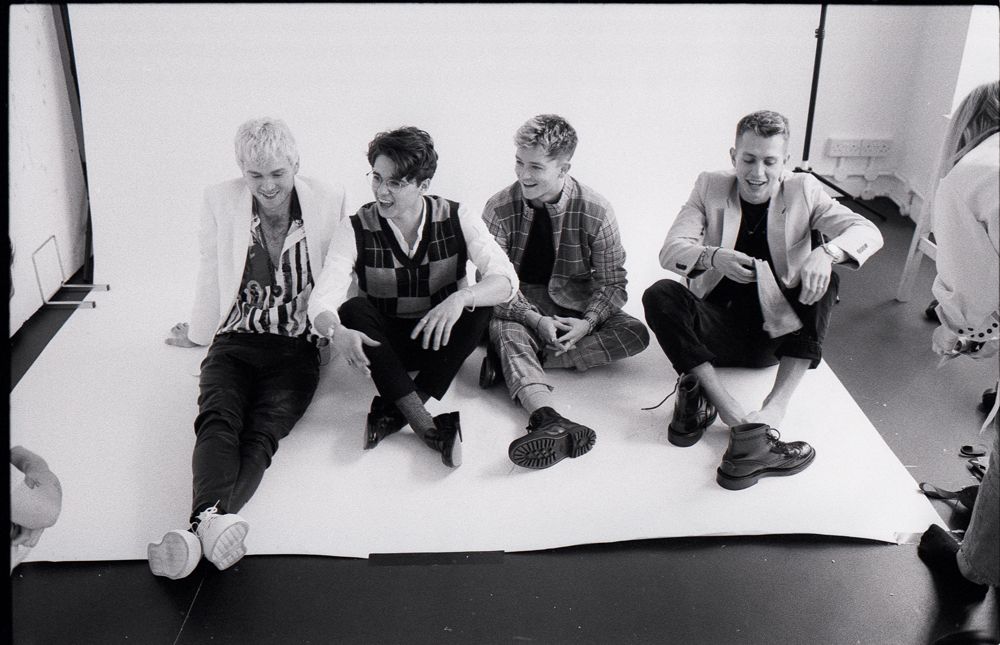 The Vamps
Meet The Vamps – the probably hottest band in the UK right now! Consisting of Brad Simpson (vocal/guitar), James McVey (Guitar), Connor Ball (Bass) and Tristan Evans (Drums), the members are only in their mid-twenties and already accomplished an outstanding amount of achievements.
Having built up a large world-wide fanbase from their early career, they went on to reaching over 2 Billion streams in total, and have collaborations with the likes of Matoma, Felix Jaehn and Krept & Konan under their belt, among other. Their brand new Missing You EP was released not too long ago and it boasts with refreshingly unique songs and an interesting fusion of different sounds and genres.
The four-piece are just about to embark on their upcoming UK & Ireland tour which is kicking off in South England's coastal town Plymouth and rounding up in Bournemouth. As the first ever band they are performing at The O2 on their London date for the fifth time in a row – a new breaking record. We had a chat with Brad and spoke about mixing genres, partying after the show and what they love most about coming home after touring.
Let's start with your new EP that came out not too long ago. You co-wrote and even co-self-produced it. With the production side of things came another big responsibility I suppose, was it the first time you co-produced one of your projects?
We produced a lot of music, and we all worked on projects. We also did music production for a film that came out last year, an animated film. The project was harder than stuff that we did before, some songs are really, really personal and close to the boys. I do think production is more responsibility because you just want to get it right. 
How long did it take to put the whole project together then?
I wrote the lead track with a friend of ours called Jordan Riley who is a writer, producer and just a very good friend. We were playing this thing on the piano and worked on the chorus after and it all came together organically. Other songs we produced at home and in other studios. Then also we had the song with Krept & Konan. It all worked out organically. 
Speaking about your collaboration with Krept and Konan – first of all how did working with them come about and how did you know a fusion of their sound with yours would work so well?
I do remember the night before I was so nervous, I was wondering what it was gonna sound like. We wanted to show what music could sound like by fusing two genres together that people wouldn't necessarily put together. That song we are really proud of, I think you can hear that in the song. I think a lot of people wouldn't expect that it would really work out. We met Krept and Konan at a party two years ago and just got on pretty well with them, you know when you say at parties that you would work together. And then Krept invited us to the studio. So there wasn't an intention, it was a very organic process. 
  I see you going on tour again very soon -what's the main thing you look forward to when you go on tour?
It sounds very cliche but after being in a dark studio for so long you just kinda want to get out. We always want the tour that we do the best tour that we do. Each time you get out you progress and it keeps being so fun.
Are you a band that goes out partying hard after a show or is it usually quite low-key?
A couple of us like a party. I do lose my voice sometimes. It depends, you can't go too hard! 
Do you have to deal with groupies a lot then?
Oh no, haha!
Fair enough!  How come you are only touring the UK and Ireland this time around? Will you do another world tour next year? 
We got plans to be in Europe later in the year and plans to go to Asia in the summer, so we will be touring a lot more this year.
Which country do you love performing in? 
I really like South America, like Argentina. They are very passionate. 
That must feel unreal, they are such a different culture. Must be incredible to be a band from the UK, and then performing all the way over there with a massive fanbase that has a different native language. 
The first time you go out there it definitely feels unreal, we are so lucky to have a passionate group of friends. 
What's the main thing you look forward to coming back to your home?
The UK is always the place where we get the first reaction from our new stuff, you look forward to seeing their reaction before we play it to the rest of the world. Also seeing family and friends. 
Thanks so much and good luck!
Missing You EP can be streamed here.
Photography by Dean Sherwood
Interview by Antonia Kunzel