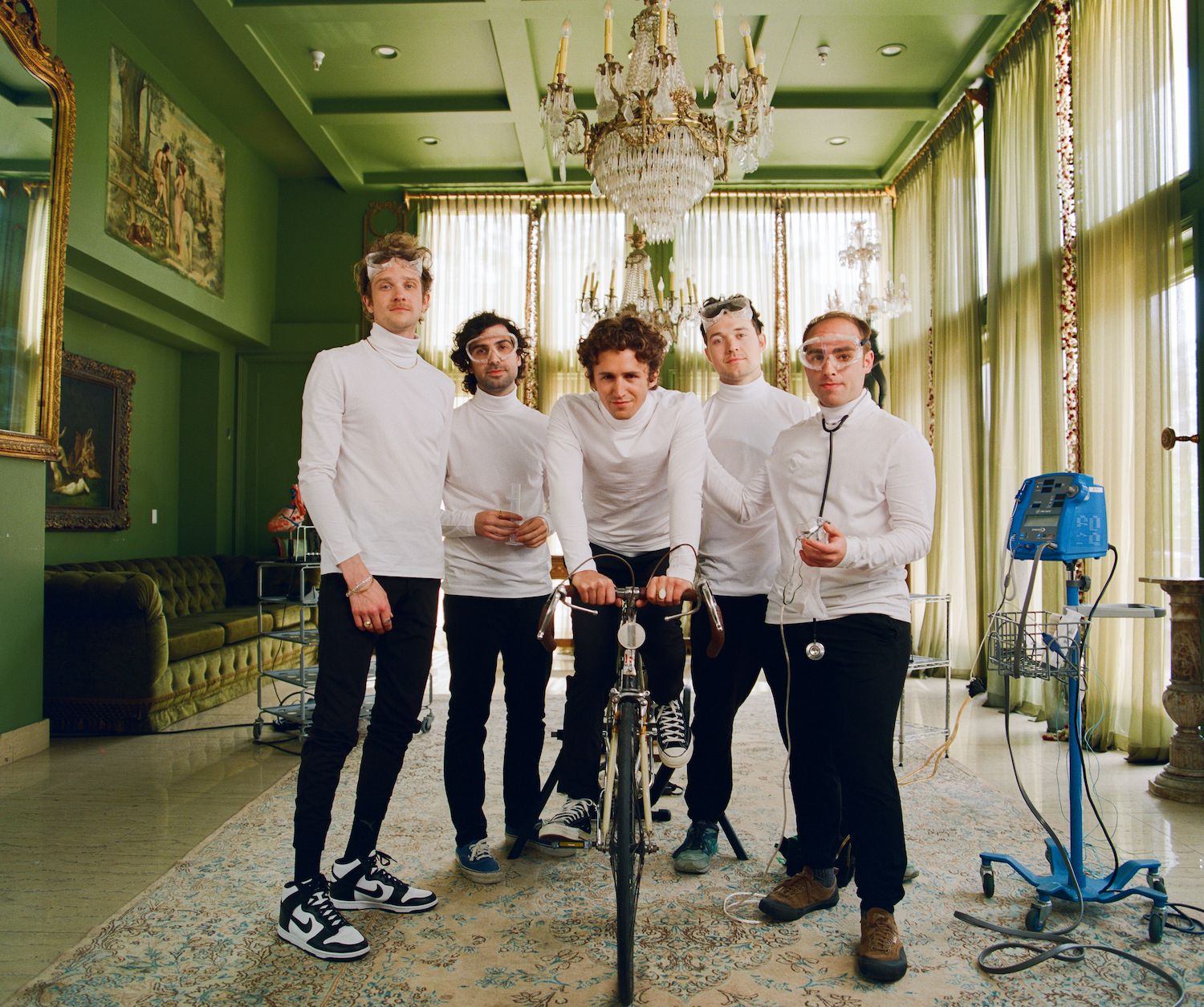 The Walters
There's a good chance you already know The Walters track
I Love You So
, a nostalgic and timeless song that went viral on TikTok at the end of 2021 and catapulted them onto Top 40 radio across America and Europe.
However the Chicago-based band is much more than that. Their come-up is an inspiration and a testament to self-belief and the power of going with your gut-feeling – I Love You So was released independently 8 years ago back in 2014. As they say, the cream always rises to the top, and The Walters have shown us this in a day and age where everyone is chasing instant gratification in an environment where consumers are never low on content. 
Formed in 2014, the band first released Songs For Dad's, a mini album inspired by frontman Luke Olson and guitarist and songwriter Walter Kosner trip to Bonnaroo music festival. After brief success and a self-funded US tour, the band decided to call it quits and head off to pursue other endeavors. Fast forward to September 2021, I Love You So found a new home on TikTok, which rekindled its flame after finding success on the short-form video hosting service. With now over half a billion streams on Spotify alone, The Walters are back headlining a US tour following the release of their latest EP Try Again.
Speaking to 1883, Walter and Luke of The Walters delve into the success of their hit single, being back on tour and more. 
You're fresh off the east coast leg of your tour. How's it been to be back on the road after so long?
Luke: It's been really good. We haven't really done any extensive touring since 2017. So it's just cool to get back out there and be playing back to back to back shows [laughs]. As a band we've just kept getting tighter and better with each show, which is also a confidence booster. 
Walter: This time around we added two touring members – Chris and Luke who play piano, trumpet, slide guitar and backing vocals. They got it down very quickly. We did like a week's worth of rehearsals all together. 
You definitely find that you get tighter quicker from live performances than in the rehearsal rooms when the pressure is off.
Walter: Yeah definitely!
You released your first single back in 2014 if I'm correct. How did the band itself form? 
Luke: Me and Walter met in 2014 at Bonnaroo music festival. Then we went back to Chicago and we just tried writing a song. Basically I Love You So was the first song we wrote together. 
Walter: It was the first thing we agreed was goof and then put out. We probably spent about 3-4 months of meeting every other week or every week and working on different ideas. But I Love You So was the first thing we finished completely. We then took it to Charlie (drummer & producer) who ended up producing the track with the rest of the guys.   
Were the other tracks of a similar sound? I guess as a new band you are usually testing new sounds and finding which best suits you.
Luke: I feel like it was similar. We had these rough demos, which if we were to listen to now then you'd see how the sound evolved. I think Walter always had a style. I've always been trying to figure vocally and lyrically what lane I should go down. I was into a lot of different ways of singing. Walter has a particular way in which he likes me singing and that's helped us find our song. I think with 'I Love You So' we knew we had something good. I think if we hadn't made that track and released it then we'd probably not be a band right now. 
Walter: When we released that song it kind of all happened fast. I remember within two weeks it was trending on Reddit and we started building a small fan base around that track. The quick success convinced all of us to make a small album. We then began fleshing out all the rough ideas and demos we had. 
At this point were you doing everything independently?
Luke: Yes
Walter: Everything we've done up until this past year has been independent. 
Luke: We recently made the jump to a major label. We're not working with Warner. But we still record everything in house. They give us creative control to make the music we want to make. 
I'm still very curious. Your sound has a very retro feel to it. How did that come about?
Walter: For us, once we made I Love You So everything followed on from that song. We didn't really overthink much either. The album was released 2 months after the release of I Love You So. We all had similar music influences but for Song For Dads LP we kind of met in the middle and it was just the vibe of the time. 
It's certainly a timeless sound.
Luke: I guess to make the answer more direct [laughs]. Some of our influences range from The Strokes, Beach Boys, old Doo Wop, Motown but with a modern rock influence to it as well. We also recorded everything line in and our drummer and producer Charlie just has a way of creating these wanky almost nostalgic tones. Like even the first guitar strums of I Love You So they have a wobbly sound to it, which puts you straight into a unique world. 
Talking of songwriting, I was wondering as a songwriter who has now found major success, how has your relationship with self-doubt changed?
Walter: I think doubt always plays a part. With us it's always been that when we've gone to make music we've never gone into it being like "now we need to make an album that sounds like this or that." It's always just an amalgamation of demos that we've worked on. I think self-doubt can be good in the way that you check yourself and ensure your songwriting isn't getting lazy. 
Luke: When you first get into the game you take more time in the creation because you think it needs to be perfect. But our first stuff we spent maximuma week and just finished it. It's weird now that we've had this success you never know. It's like stocks; it can go up and down. Hopefully we can capitalize on making new music that reaches people. 
Definitely! It's also great to see and know that good music does rise to the top even though it might take some time before the world hears it. It doesn't need to be instant. Maybe instant isn't even a good thing.
Luke: I think that's the biggest takeaway for any artists in this climate right now. Everything is based on instant gratification. You deem a song nowadays as a failure if it doesn't hit a Spotify playlist. However, our song I Love You So was released in 2014, it's now 2022 and it's now on Top 40 radio. You know on pop radio. That's 8 years old and it made it! We always believe in it. But then who would have thought. I think that alone is a good enough example. Make music, try and get the best recording but just get it out! I talk to so many of my friends who play me their music and I think it's great but they just seem to be waiting on it. Song's awesome so just get it out. You don;t know what can happen.
I guess it's not only a great song but a great and inspirational story!
Luke: We feel like we got a one in a million lottery ticket. We were just living our lives, this band wasn't existing at the time you know. Out of all the chances it's our song that goes viral on TikTok and then it's on the radio [laughs]. 
How did you first hear about its success on TikTok?
Walter: We just noticed we were getting a bump on our Spotify in like September 2021. Then we started getting calls from labels and found out that a lot of streams were coming from TikTok. None of us had ever used TikTok. Then it became like a domino effect where all the members got back together and all met up to work again.
Luke: We never had any label attention before. Then all of a sudden there's a bidding war with all the biggest labels. I mean we weren't even a band at that point [laughs]. It was funny. But it definitely kicked us back into gear because we all deep down wanted to reunite and get the band back. 
What 3 songs would you choose to soundtrack your perfect day?
Evening – You Get What You Give by New Radical
Midday – Meet Me In The Bathroom by The Strokes
Morning – Dancing Shoes by The Walters
EP Try Again is out now, follow The Walters via @thewalters_
Interview Dean Benzaken
Photography Joelle Grace Taylor