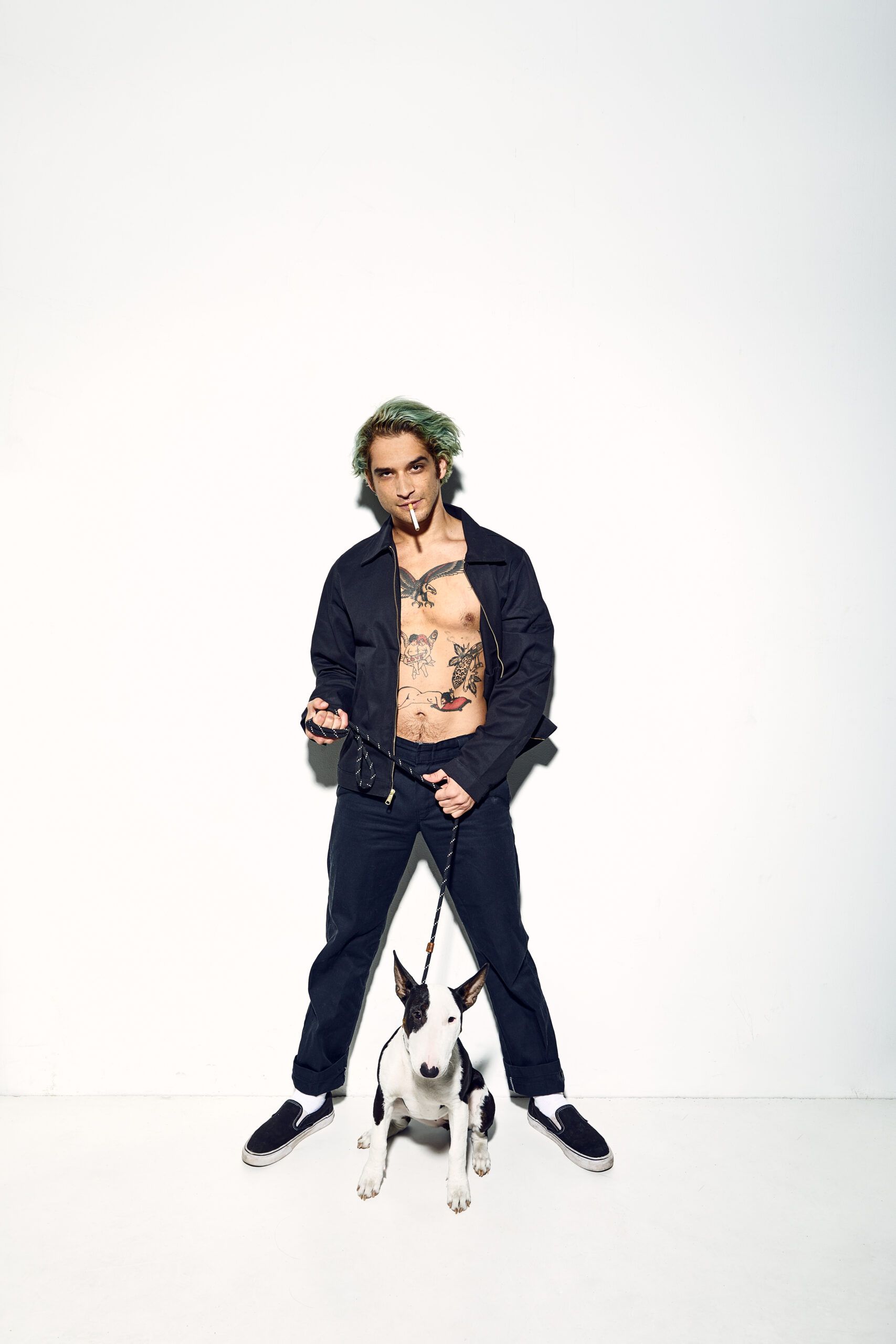 Tyler Posey
Singer-songwriter, multi-instrumentalist, and actor Tyler Posey is a creative with conviction.
Undoubtedly most actors turned musicians would use every possible connection to help their careers when it comes to breaking into the music industry but Posey is a firm believer that you have to start from the ground-up, no matter who you are, you have to earn your place in the music scene. It's his hard work ethos and appearances on hit tv shows such as MTV's Teen Wolf and Scream which established him as a renowned actor but Posey has always been a music lover and played in numerous bands throughout his teen years and adulthood. Now, the talented artist has fully launched his solo music career with the release of his brilliant debut EP, DRUGS. His conviction not only lies in the fact he truly wants to earn his place in the music industry as an authentic and credible musician but also within the EP itself.
The EP isn't called DRUGS for nothing, it's an honest collection of songs which detail his battle with drug addiction. The entire songwriting process was a way for Posey to utilise his love for music and to exorcise his demons, it was a therapeutic undertaking which led him to sobriety. And after the EP was made with the help of his friend and acclaimed producer, John Feldmann, Tyler Posey has now created a raw and energetic body of work, It's a seriously kick-ass slice of american pop-punk. It will prove any naysayers wrong: he's a musician through and through.
In conversation with 1883 Magazine, Tyler Posey spoke to us all about DRUGS, touring, and his choice for which musician he'd love to play in a biopic.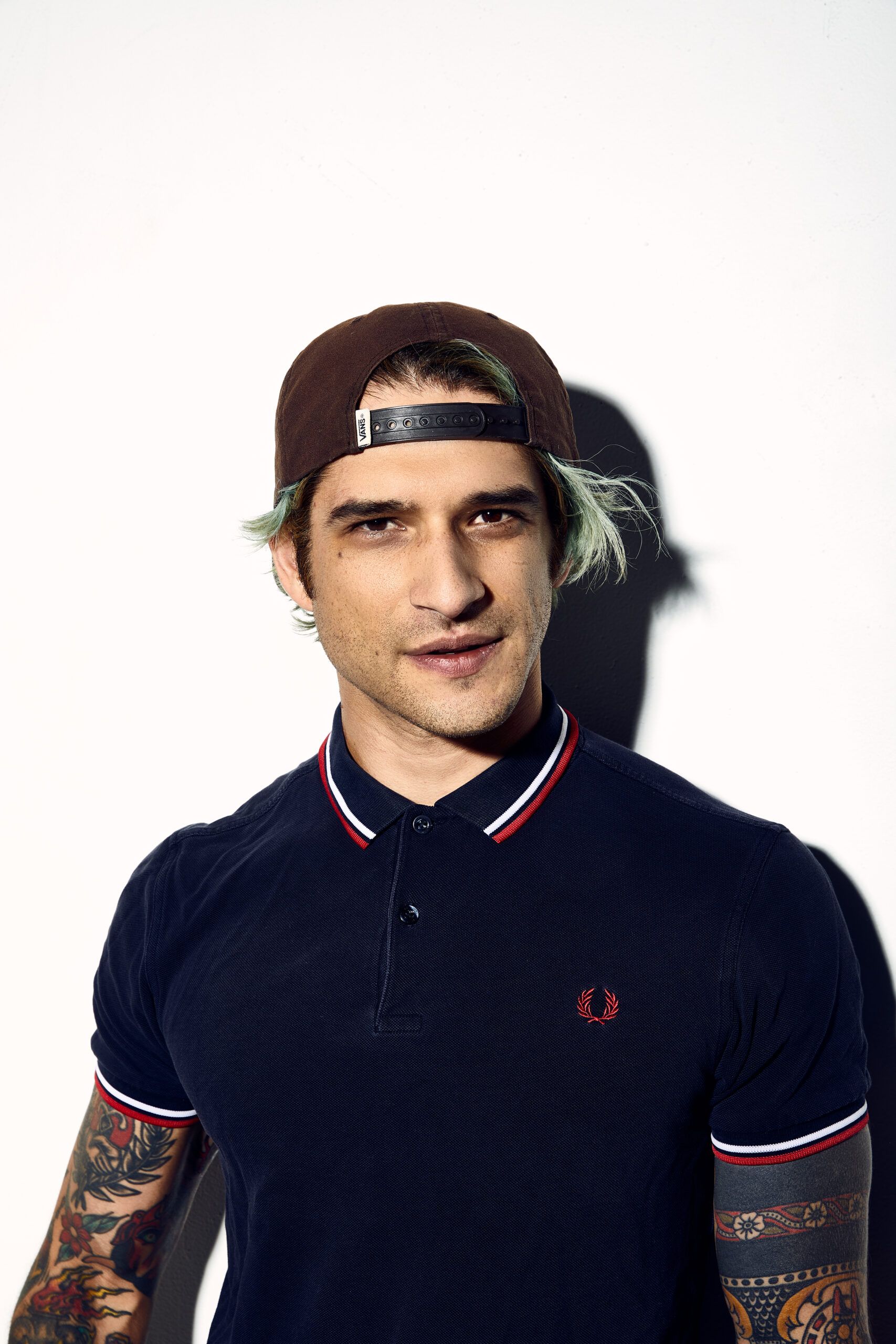 Hey Tyler, your debut solo EP, DRUGS, is out now! How are you feeling?
Yeah, I feel good man. I think releasing is  always interesting, I sometimes don't really put too much thought into releasing music because for me, most of the fun lies in recording and writing the songs and being creative. And sometimes I think, if you put pressure on a release, it could be stressful. And I always just try to live like a stress free life the best I can. So I don't really put too much pressure on a release. But this one is definitely important and I'm very excited about it. And I don't know man, it's heavy. Last night when it released, I was with my girlfriend and my friend. We were like celebrating  by just listening to the EP and I was really able to let it sink in and be really proud of it.
But also I felt the weight of it somehow, I think it's just stressful releasing music. I didn't used to feel that way but I'm happy that it is, not everything's supposed to be easy. It's easy when it comes to releasing but not everything is supposed to be happy and rainbows or whatever, so there was a little bit of like anxiety when it came to releasing the EP which was cool because it made me feel human. Normally I haven't felt that feeling when it came to releasing music before, so I was happy about that. And then this morning, I feel so good and really accomplished and I'm really proud of this EP.
Everything about it, the music, sonically the way that that it is, the track listing and then also the artwork. I just feel really good. It's finally out I can stop sitting on this privately and now I get to play the songs live.
With this being your debut solo EP, what was your main inspiration for making it? And what would you say have been the biggest challenges you've faced when writing it? Was it hard opening up when you wrote the EP?
For me, being honestly brutally honest with my music has always been something that I really like about what I do creatively. So like you said, you know, it wasn't too hard writing about that subject matter. I think probably one of the most difficult parts was… so yeah, I got sober but then I also relapsed, after I started writing the EP. Then I was like  'fuck, man is this is this EP mean anything anymore?'. It was so important to me when I got sober And then I started doing drugs again. But I'm not doing drugs now, I'm sober now. But I felt like I turned my back on myself, I felt I was doing an injustice to my music, creativity and my writing. I just felt it was weird. I don't think writing about that subject matter was too difficult because I really enjoyed being honest.
But getting sober and staying sober was hard and it's a huge part of this creative process for me and this EP. So that was hard and it's what this album is about. So it's really interesting how everything's wrapped up into this concept. But yeah, I think everything else was pretty easy. The process was normal, you know, just the same as always. I had a new writer, come and write with me called PHEM. I've never really written with anyone else other than the producer and songwriter, John Feldmann (Feldy), and my band. So that was a really cool process. PHEM helped write 90% of the songs on the EP with me and it was pretty easy. But staying sober and committing to that story that I was telling, I wanted to be authentic. I don't want to go back on my word, that's been difficult. Sobriety is a journey.
Sobriety is such a hard and long journey and there can be bumps in the road but you're not doing any injustice to yourself or this EP, good on you for committing to it.
Thanks man!
The EP boasts some pretty cool collaborations, such as Travis Barker and PHEM. Can you please tell us a little bit about how they came to be involved? You're a big Blink-182 fan, so that must have been cool.
Yeah, it was the fucking coolest Yeah, Feldy is to blame for all of them, for all those people that came in and were featured on my songs and helped write the EP. Feldy has worked with PHEM a bunch of times before he brought her onto my project and then he's really good friends with Travis. My drummer lives in Australia, so he hasn't been out in the US for two years. He was like 'dude, let's try get Travis to play on a song' and I was like, 'oh fuck yeah dude, if you're down with that, I never want to take anything away from your instrument but if you're down to have Travis do a little feature, let's try it'. So I hit Feldy up and he said 'that since this is your solo project, maybe we just put emphasis on what you're doing now, so maybe no Travis right now, let's just get you out there.'
And then one day Feldy FaceTimed me and I answered the phone and he was with Travis in the studio and he said 'Hey, Travis is gonna record one of your songs. What song do you want it to be?' I was like what the fuck? I thought he said no haha. I'm a huge fan of Travis, always have been, he and Blink changed my life as a kid. At that point "Shut Up" had already been written with PHEM. And I suggested we do a double feature on it. It  just seemed like an appropriate song for Travis to be on, I was really jazzed on this track as at that moment,  It was our newest song and I was super stoked on it.
And then the same kind of happened with PHEM sort of. Myself and Feldy were about to go into record the second song we were going to put on the EP and I had just gotten sober the  week before; and FELDY suggested we bring in PHEM and I thought it was a great idea. She was like a mutual friend of another friend of ours and so I knew about her. Coincidentally, we played on stage at Feldy's Christmas party the year before, I play bass for Feldy for his band Goldfinger every now and then. In that gig Feldy brought her up to sing "Superman". So I just remember seeing the back of her green hair. But I was super stoked, I'm always down to experiment and write with new people. Unless it doesn't work. I've written other writers where it just doesn't feel right but she was so easy to write with and we bounced ideas off of each other really well. So he just kept inviting her back and she was down for it as well, so she kept coming back. So that is how it happened. Feldy is the glue.
Undoubtedly, a lot of people will know you first and foremost for your acting career, even though you've always been passionate about music. You started getting into it when you were 12-years-old and had a band called Toothless Sidekicks which is cool. So when you decided to pursue music fully, did you feel that there was more pressure to prove yourself at all? There's always sarky comments online whenever you see an actor turn their hand to the music industry… 
Of course, yeah there was pressure in a way where I want to earn it, I never wanted to use my acting chops as something to lean on. I don't want to use it as a crutch for my music career. I could have been touring in buses and all that shit like having roadies. But I rent my vans, and I drive them myself. I set up my equipment at the venues, I really wanted to hustle and earn this position. I come from a punk background and punk does have a family vibe but there's also a feeling of 'if you don't earn this shit, Fuck off'. So there is a little bit of pressure in terms of me just wanting to let people know, people in the music industry especially like other bands: I'm not just using my acting as a stepping stone here. I really want to work from the ground up. And just fucking really do it, you know.
That's something that's always been really important to me. So there's that side of pressure. It's interesting, it's definitely something that's on my mind a lot. For this tour, I'm driving myself across the across the US again, we're always staying in shitty hotels. Whenever we toured in the UK we stayed in tiny hotel rooms and shared beds and it was great. We fucking loved it. Watching documentaries from Blink-182 and New Found Glory and all these other bands I got to watch as a kid, I was like 'god damn, I want to do that. I want to do it right.' 
But yeah like you said, whenever an actor comes out with music, I'm even sceptical. Like what the fuck are you trying to to pull here, you know? So I definitely take a lot of pride in in making sure that I earn it the way that I think other people would agree with, if that makes sense.
Following on from that, it's also a little bit like who gives a fuck if you're known for one thing or another, what matters is the music. For example, if you take Youtuber Filthy Frank he is widely known as Joji now and the actor Dylan Minnette is known for his band Wallows. I think it is abundantly clear that you are earning your stripes in the music scene organically. So all is good!
Okay, cool! Good to know haha.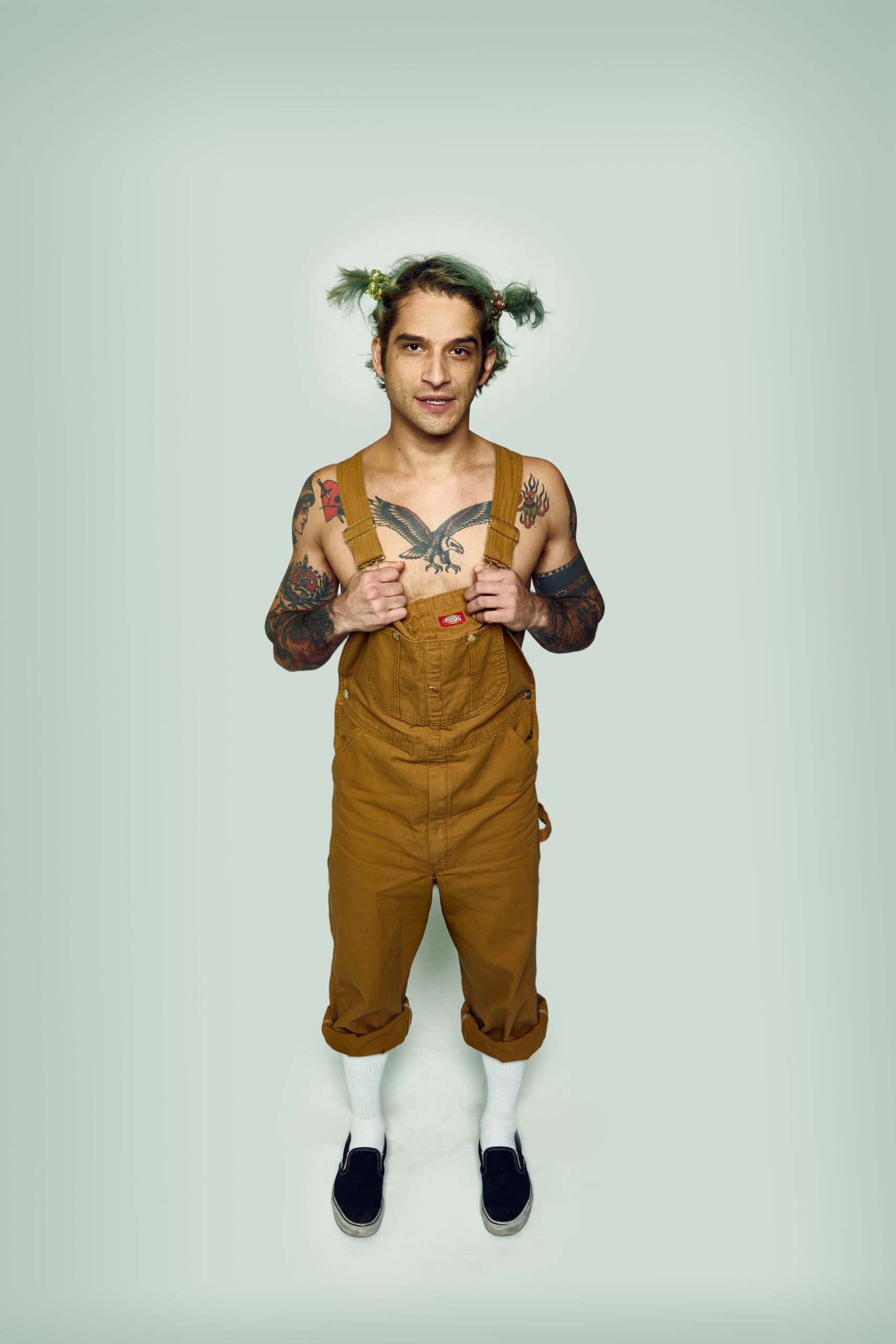 Speaking of the ground up, you're going on the 'Internet killed the rockstar' tour soon with Mod Sun and girlfriends. Do you get nervous at all or are you just happy to get out there…
I am super fucking happy to get out there, dude. I love every aspect of touring, riding in a van with your friends, I'm bringing my BMX bike and my drummer is bringing his BMX bike, so we're just gonna fuck around. I'm excited to see all these different locations, I'm really excited to play live. The only thing that is different this time around, where there's a little bit of pressure and anxiety is the fact that it's just me and my drummer, we don't have any other musicians in the band right now. Everyone else is either busy or fucking stuck across in Australia. So I have a bunch of backing tracks and it's the first time I've ever played with backing tracks, and it sounds huge and awesome. But you know, I grew up as a punk kid. So I'm like 'what the fuck is a backing track?!'. I just don't really know how to work it out yet.
So we're rehearsing a lot with them, making sure everything sounds great, but it does make everything better and easier. I don't have any nerves about playing, I'm excited to see the kids. Every show is almost sold-out and we're playing some really legendary venues. I'm excited to get to know the bands more, Mod Sun is a homie of mine. But it will be nice to get closer on tour and Nick and Travis from girlfriends are really big homies of mine too. So I'm just really excited to hang out with everybody.
Touring is an interesting thing. It's really intimate, you have something in common with these people that not a lot of other people have. Every tour is unique, special and different and brings each person closer in a way that you don't really think about. It's gonna be really cool, I'm fucking pumped. I love stopping at the gas station and getting crisps, every type of crisp. Especially in the UK, there's like 1000s of different flavours. I'm just excited for every part of it, we get to see some places I've never seen before. But yeah, just learning how to be on a stage with just one other person is going to be interesting, we are going to bring a lot of energy to fill the whole stage. So that's the only thing I'm nervous/excited about. 
That's understandable, good luck with the backing tracks, I guess this means you will both be playing with a click in your in-ear monitors! But with that punk energy you have, I guess you just want to take the in-ear monitors out and just be more in the moment. But it will all go well!
Yeah, definitely I want to take them out, you know. I guess I could always just listen to the drummer as long as he doesn't take his in-ears out, I think we'll be okay.
Just going back to the fact that you will be driving your own van and setting up your equipment, it's going to be a lot of hard work and so tiring. A lot of people don't realise that going on a tour is sort of like doing a marathon. But all the hard work must be so worth it!
Yeah, I mean it is gonna be somewhat rough, in a sense. Our  first stop after our hometown shows is almost 2000 miles away. So it's gonna be three days on the road nonstop. And that's the only thing that's going to be sort of intense about it but I love loading equipment, I love doing the work and having a really solid work ethic. This may have started when I started acting, I always sort of felt weird sitting down, while other people  lifted heavy shit and did  the heavy work. I always felt not fully accomplished, I've been acting for fucking 20 something years. So I always try to be hands-on with whatever I'm doing but this just allows me to exert all of that sort of work ethic that I really want to let out. So we're going to be tired as fuck, we're going to hit the road early, and not get a lot of sleep, and then load up our stage and then load it back down…I'm super excited to work. 
I love that part about touring for some reason,  I'm not by any means just sitting back and  having it happen. I'm the crew that sets everything up. It's just me and two other guys on my crew. So we've got a lot of work ahead of us but that's one of the things that I really look forward to the most. It's super rewarding. The fun is playing the show that's the fun part. Everything else is going to be super work but I'm excited for it. Like I said, I really can't fucking wait for that part. It all just makes me excited.
You're a music fan through and through, so just talking as music fans right now, is there anyone you'd recommend our readers check out? There's two bands which I think you will love, one is called Drenge and the other is called The Mysterines. They're both amazing.
Awesome, thank you, I've made a note of them! I love a band called Turnstile right now. Do you know them?
I don't, I'll check them out!
Oh wow, Turnstile are great. They're kind of hardcore punk, grungy, they are really cool. PHEM is fucking awesome if you haven't checked her out. Drug Church are sort of grungy and really cool.
Look, I have to ask a question related to acting but out of respect to you, it only feels right not to speak about a certain hit tv show a lot of people know you from. Instead, here's my question: If you were to play a renowned musician in a biopic, who would you want to take on and why?
Haha ah dude, great question! I want to do blink-182. I want to do a blink biopic so bad and I want to play Tom DeLonge. I know I'm about like seven feet smaller than he is. He's 6'4", a huge dude. But with movie magic I think we can make it work somehow. But yeah, I've always wanted to do blink, I've always wanted to do Tom DeLonge. Just to pay homage to him. 
That dude changed my life, that band changed my life. And I just know them inside and out and we grew up in a similar way, so it wouldn't really be acting haha. We both grew up in Southern California, listening to punk music and skateboarding. There was just a couple years apart from us. I've always wanted to play Tom and I don't know if there's anybody else I could do justice to. I would really have to take on a different persona which I guess is what acting is all about but definitely Tom DeLonge.
 Finally, what's next for Tyler Posey?
New music for sure, my original plan was to put out two EPs this year but the second one's not gonna happen for a little bit. But there will definitely be more music coming soon. I want to put out a full length album, maybe that will be next. The EP is just a little taste of my solo self. I definitely want to come back to the UK to tour. I was trying to persuade Mod Sun to do a UK version of 'Internet Killed the Rockstar' tour. I'm always looking to come to the UK. I've got so many friends in the UK from touring, like my previous UK tour managers and crew, they've all become really close to me. So they're constantly saying like 'let's get out here. Let's do it again.'
I'm really looking forward to coming back to the UK. And what else is next? I just want to keep doing my own music videos. I've been directing and editing and shooting my own music videos, so I want to keep doing more of that and make them weirder or funnier, I don't know. I like to bring a light heartedness to my music videos. Yeah, dude, I need to come back to the UK so bad. We fell in love with that place and had some really good times when my old band toured there. So it would be really nice to bring my new solo stuff to the UK.
It's just so welcoming over there, everyone's just so into the music and it is so much fun at the shows and it's just a really special thing. Plus I'm a huge fan of crisps, I fucking love crisps so much. So I need to come back for a lot of different reasons.
DRUGS is out now. Follow Tyler Posey @tylerposey58
Interview by Cameron Poole