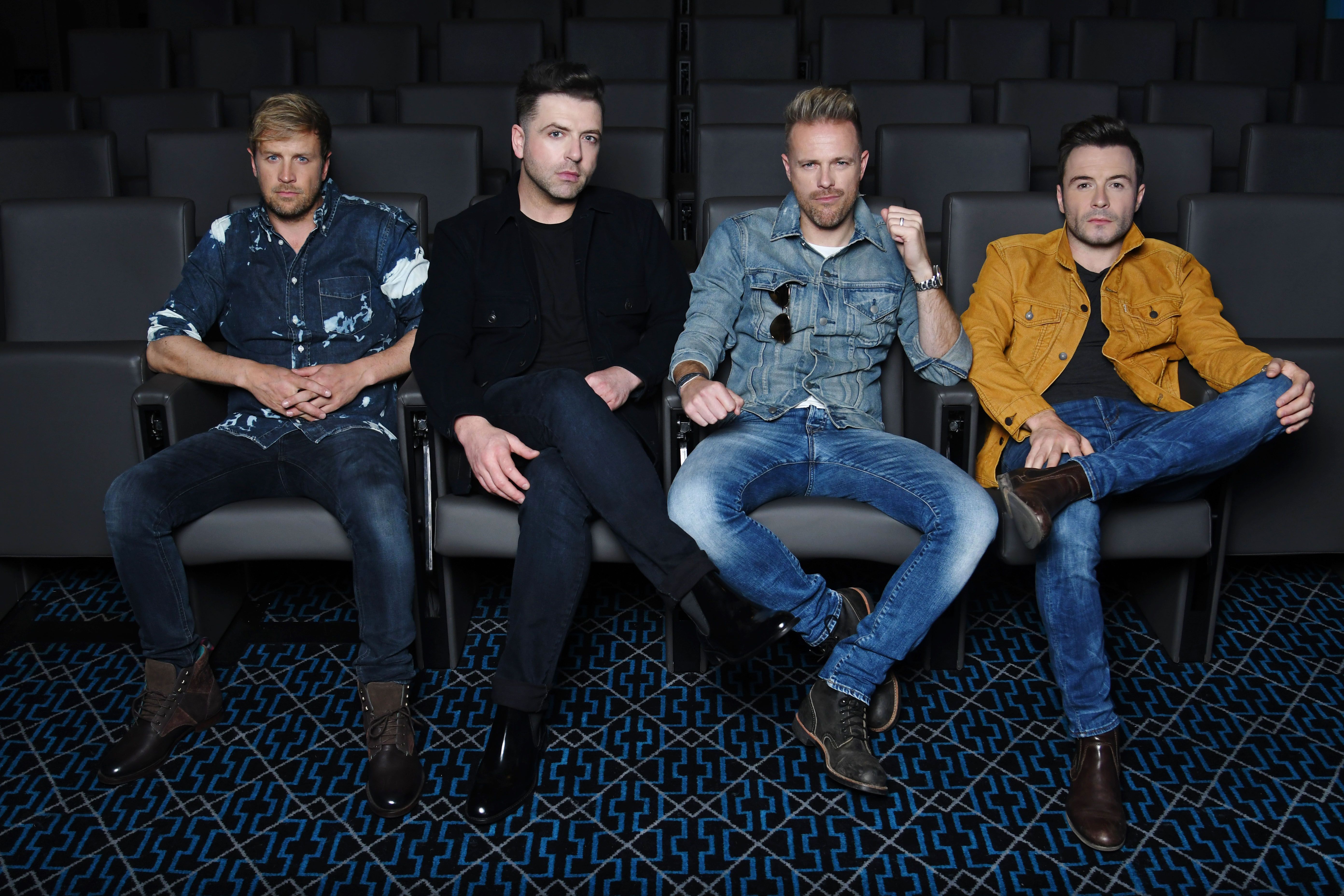 westlife
Over 45 million records sold world-wide. 14 UK number one singles. 12 studio albums and four BRIT awards.
These stats were purely numbers to the four lads from Sligo, who just short of seven years ago departed from arguably the most successful boy band in the world, Westlife. Yet having stepped away from the spotlight as a band, to grow families, pursue solo careers, and reflect on what they've achieved, it seems they've decided they're not ready to end the boy band dream. And so, to the excitement of screaming girls around the world, the Irish boys have finally answered their fans prayers and confirmed their reunion.
At the Courthouse Hotel in Shoreditch after a long day with a series of mishaps:  a delayed flight from Dublin, one temporarily lost passport and a whole lot of waiting around on their first UK shoot back together, it seemed just another regular day for the group, if they'd never been apart.
MARK: "It doesn't feel like anything has changed. I don't worry that we're not doing the right thing. It just feels natural."
SHANE: "It feels like we haven't forgotten how to be with each other. This is our first interview in nearly seven years altogether."
NICKY: "Have you heard of the seven-year itch? We definitely had that for each other."
SHANE: "We had the itch for each other and now we're back!"
MARKIAN: "That's not a physical itch, just to clarify…"
With three members married and a combined total of nine children, one Jungle crown and several hit solo albums later, the boys decided it was time to reunite. On October 3rd, just eight days prior to our interview, the boys released a short 34 second video online, causing Westlife fan chaos across the world. But seven years later, why now?
KIAN: "I think it's because we all genuinely missed it. Me and Shane were reminiscing, it was around the time that Adele bought out Hello."
SHANE:  "That was it for me. The day I pictured Westlife coming back was always with an amazing song like that. She just dropped 'Hello'and it went – bang! I thought: that's what I would want it to feel like for the fans to hear our music for the first time."
NICKY: "We were always confident that there would be a reunion at some point. Next year is 2019, 20 years since Swear It Againand Flying Without Wingscame out. An amazing 12 months of number ones.  
SHANE:  "For me, it was the fact that we felt we'd been away long enough, and it was twenty years." 
So, one Christmas time, the foundations of a Westlife reunion slowly started to form.
KIAN: "It was almost like taboo to talk about it: not necessarily a reunion, but Westlife in general."
SHANE:  "We hadn't talked about it in almost five years, the first talk anyone had had about it."
KIAN: "Everything started spilling out: do you remember this and that. Everyone started chatting very naturally about it."
SHANE:  "We all had the same idea in our heads and Westlife excited us all again for the first time. And for a long time, it wouldn't have."
Along with the bands interest, they began to see an added push from the public for Westlife. Several videos went viral of fans singing Westlife songs that caught the boys' eyes one at a football match and one with an entire plane singing Flying Without Wings.
SHANE:  "We saw all these videos because they were going viral. You could really see what Westlife meant to people."
Since the news of the reunion, the reaction has been as you can imagine from their previous fame: huge.
KIAN: "It's been insane, and that's mainly been because of the power the four of us have when we're altogether. We're trying to gauge how interested people are in us."
And who, I hear you ask, will be the person to assist in co-writing the epic come back songs that fans are waiting to hear? Well, Ed Sheeran of course.
KIAN: "I remember us talking and saying, where do we fit in now, in 2018? How do we approach this? And we all said: we need Ed Sheeran."
SHANE:  "The first two songs we've done are just incredible songs, with incredible lyrics and melodies. Steve Mac (2018 BRIT Producer of the Year) is one of our longest and most influential producers we've had throughout our entire career. He's done most of our biggest hits and has worked previously with Ed on Shape of You."
MARKIAN: "We're in a very good place for Westlife to be slotting in with Steve and Ed right now."
After hearing Ed perform his own version of Flying Without Wingsand saying he'd been listening to Westlife's Greatest Hits album Unbreakable, the boys knew there could be a chance for them to work together.
KIAN: "I knew if he liked Westlife back in the day, then we needed to take him out for dinner and buy him the biggest steak and champagne in the world! Then hope he wasn't vegan and ask him to write us a song."
Luckily, Steve Mac was one step ahead of them and had already approached Ed to work on new material for the band.
In their time apart, the boys ventured down different pathways showing them each as individuals and not just one part of Westlife.
NICKY: "I think for all of us we had to find ourselves individually."
KIAN: "We've all gone off and done our individual bits. There's been highs and lows of doing things alone."
Keen to get straight back to work, Nicky took part in Strictly Come Dancingin 2012, placing a respectable sixth. It therefore seemed fitting for him to become a host for IrelandsDancing with the Stars, now in its third season.
NICKY: "I'd always wanted to do something that would progress my career. I was having meetings about what I should be doing and it all just seemed to fit in."
He is also currently hosting his own radio show: The Nicky Byrne Show with Jenny Greene, a daily 10-12 slot on Dublin's number one radio channel, RTÉ 2FM.
Like the other band members, Nicky released a solo album, Sunlight.
NICKY: "The six years for me went quickly. I've missed the lads and being on stage. I didn't miss the travelling or the bullshit, so to speak, of being in the band, which is inevitable. We know each other, which has been a real plus for me, but you still never know until once you get back together what the dynamic will be like.
This time round because we've grown up a bit, we're going into this a lot more relaxed and to enjoy it. We never fell out before, which is great. I know it's our first day back, but I even feel it on this shoot. No one's fighting over jackets! We're all getting along well back together."
In 2015, a few years after the band split, Kian won over the nation as he was famously crowned King of the Jungle by the British public, in I'm a Celebrity, Get me out of Here!
But for the Sligo born Irish man, his immediate craving after leaving the band was pure and simple, and a far cry from the cameras and stage.
KIAN: "I went home and surfed for a year. Then thought: well, now I better do something."
Following his time in the Jungle, he got offered a record deal that led to an album. He also did some TV presenting and became a judge on TheVoicein Ireland for a few years. Yet, it seemed that none of these idealistic roles could fully satisfy him.  
KIAN: "Really, all I wanted to do was go surfing. So, about a year and a half ago that's what I did."
SHANE: "And have more kids."
KIAN: "Yep, lots of kids. I have three kids now. My youngest little fella just turned one last week."
In addition to Kian, Shane and Nicky also have kids, with many of them coming on tour.
SHANE:  "I think that's the most exciting thing. Being back in Westlife is amazing for us but for our children, they're so thrilled for this. They're old enough to really go, wow. They're so-o-o, excited about going to the concerts."
For Shane, his time away from the fab four was all about the music.
SHANE:  "I purely made music. Three albums. For me, I just wanted to sing. I loved it in the band and wanted to continue doing so. So, I made music and travelled a lot."
As Shane travelled around the world to Asia, he realised how big Westlife were out there
KIAN: "It was strange to see other bands doing what we'd done. I went to my wife one day, just after One Direction had exploded: was Westlife ever as big as them? And she was like, Oh yeah! I thought, really?! When you're doing it you're not really paying attention to it…"
NICKY: "Similarly with our chart history. You walk past a disk in your house that says 45 million and it doesn't really seem real. Then when you come away from that bubble you think, holy shit. That wasn't just a far-fetched dream. "
SHANE:  "For some, Westlife was their entire childhood. Some people who are 25 now were five when we'd started. The fans are so excited to hear about everything and there's so much we want to tell them. And we'll tell them, bit by bit. We're still finding out a lot of that bit by bit ourselves. It's exciting. It's very natural."
Similarly, to Kian, Mark took some much-needed time off after a hectic twelve years and headed to LA.
MARK: "I booked a one-way flight and didn't know when I was coming back. I escaped the madness, which I enjoyed every second of. But, couldn't wait to get away from the constant schedules and being told what to do. I loved waking up and not knowing what I was going to do for the day."
Spending most of his time song writing between London, LA and Sligo in Ireland, it took Mark some time before he created his debut solo album, Firein 2016. Unlike the others, Mark chose to release his album independently.
MARK: "During Westlife, I never had to ask a question to the record label or ask about strategies or the business side. So, I eventually grew to really like being so involved in this new process."
He also supported Mariah Carey on her Christmas tour in Ireland. Westlife previously worked with Mariah back in 1999, releasing a version of Phil Collins' Against all Odds (Look at Me Now).
KIAN: "She used to call us her little Irish boys," Kian impersonated in a high-pitched female New York accent.
SHANE:  "Mariah was lovely. We were just kids 19, 20 years old, and we were singing with the biggest diva in the world. We were literally babies. Then Mariah was just so cool, we got to sing with her a few times after on TV. Things like that were mad!"
Yet after this, Mark was ready to step back from the music industry once more, and instead tried something completely different.
"I did a lot of house refurbs. The first one was hard as I made loads of mistakes, but by the second one I'd learnt and absolutely loved it. It was like making an album, but without all the bullshit of the music industry!" The boys laughed and nodded in unison.
"I got to be creative and at the end of it, the only person that had to like it was me. I've found other ways to be creative that doesn't involve being in the studio, or on camera, or worrying about a chart position or sales figure."
Despite already having several songs and with an album well under way, the band made it clear that they won't be rushing into any of it.
MARK: "We did 13 albums in 14 years, that's not a balance. Moving forward, we want a balance."
SHANE: "Coming back with great music is the most important thing and that's why we'll take our time writing this first album. It could take quite a while to finish it. We want to come back with something amazing and reinvent Westlife."
With their first single set for release mid to late November, and a UK and Irish tour expected for 2019, fans don't have to worry about waiting too long for this reunion. That goes for fans all over the world.
SHANE: "We will get to everyone eventually."
KIAN: "Every country that wants to see Westlife will see us at some point. We won't step away from this until we've managed to tour the world."
SHANE:  "We have a lot more we feel we can achieve. To do that, we need more music, and to fit in with the current music in the charts. That's the tricky bit."
To the delight of many, the band confirmed they will remain under that Louis Walsh's management – their previous manager and an X-Factor judge. Someone who Shane calls the "biggest Westlife fan ever," he even called the boys up a week after their split to see if they'd maybe change their minds. So, it's safe to say Louis' more than delighted the gang are back together. However, they will not remain under Simon Cowell's record label.
NICKY: "We never fell out with Simon, we had a great time with him for 14 years. When we came back, we decided we wanted a new challenge: new label, new everything."
MARK: "Simon's a fantastic TV producer too so who knows, we could work together again."
NICKY: "He still calls us kiddos, which is nice when you're 40."
As we discussed the boys most memorable performances, they nattered away, voices raised above one another as they fought over their craziest story. Maybe the time they'd flown on a private jet to meet the Pope. Or possibly jetting off to Italy to perform on a private TV show, each wearing a different Dolce & Gabbana jacket worth a quarter of a million pounds. I then reminded them of the time they'd been flown to play at Wayne Rooney's wedding: that they'd seemed to have completely forgotten about.
KIAN: "Oh, we did yeah! That was a long time ago now. I got so drunk at that wedding…"
NICKY: "You forget about things like that don't you. That was cool."
As memories spilled out and re-told forgotten stories, some remembering ones clearly that others had forgotten, the sheer volume of what they had achieved became clear.
MARK: "We played in Manilla in The Philippines, that was crazy."
KIAN: "Do you remember that gig we did in Iceland?"
SHANE:  What gig in Iceland?!
NICKY: "No-o-o-o, that was The Faroe Islands!"
KIAN: "Ohhh no but what about the time in Vietnam, in Hanoi!"
And as if they were suddenly only just discovering the success of Westlife, their eyes lit up.
SHANE:  "Since being out of it, you realise what it's like not to be in Westlife, which is so important. You really appreciate what Westlife meanShane: for us and the fans. I've really noticed how much the band meant to people."
As they joked around about getting stools made for their tour – something Westlife had become known for over the years – their camaraderie that so many bands could only wish for stood out.
MARK: "That's why we're still here. There's been times when it's been really tense between us and it's been our friendship that got us through. I've been in class with Kian since I was eleven years old in high school. It's things like that which stop you from walking away, the history."
KIAN: "Friendship breaks through in the end."
SHANE:  "We know each other too well. There's this history we have together that's even more than friendship."
And you can see that, as cliché as it sounds it really is as if they've never been apart. And this time, with Steve Mac and Ed Sheeran in tow, they really seem to be here to stay.
For the latest on Westlife visit www.westlife.com
Writer: Miranda Bunnis – www.mkbunnis95.wixsite.com/mirandabunnis
Photographer: Jack Alexander – www.jackalexanderphotography.co.uk
Styling: Indigo Goss – www.eramanagement.com/indigo-goss
Styling assistant: Plum O'Keefe
Grooming: Shamirah Sairally – www.ss-makeup.com
[embedyt] https://www.youtube.com/watch?v=ZEQOE1oZQ-4[/embedyt]