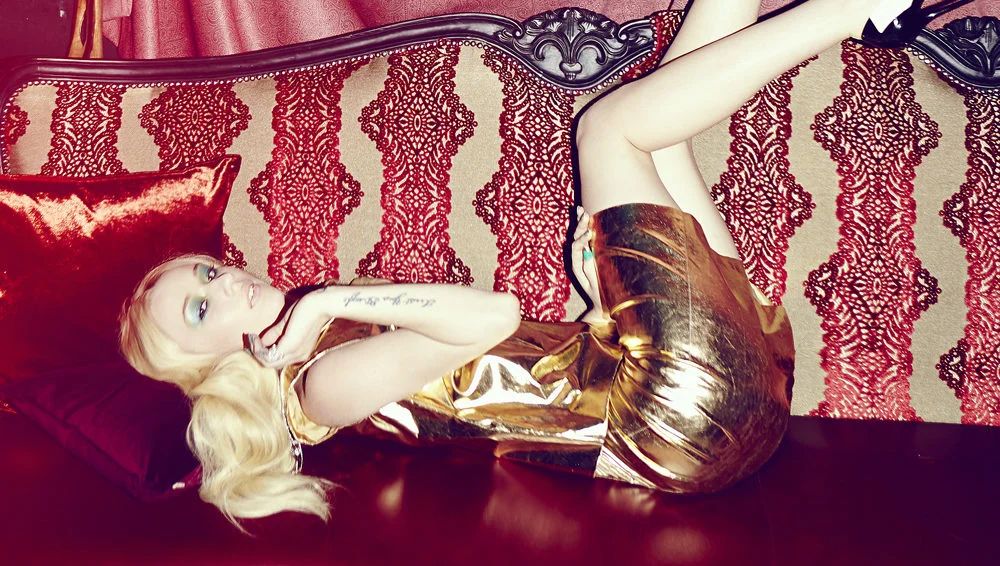 Iggy Azalea
The mischievous rapper talks T.I., temper tantrums, and Twitter
Iggy Azalea is on a geometric sofa in an office in Central London, trying to untangle her headphone wires. "Arrgh! Whatever." She chucks them down next to her and laughs. All cascading blonde hair and high-top trainers, the young Australian rapper is a vivid, warm gust of fresh air in London's icy winter grittiness.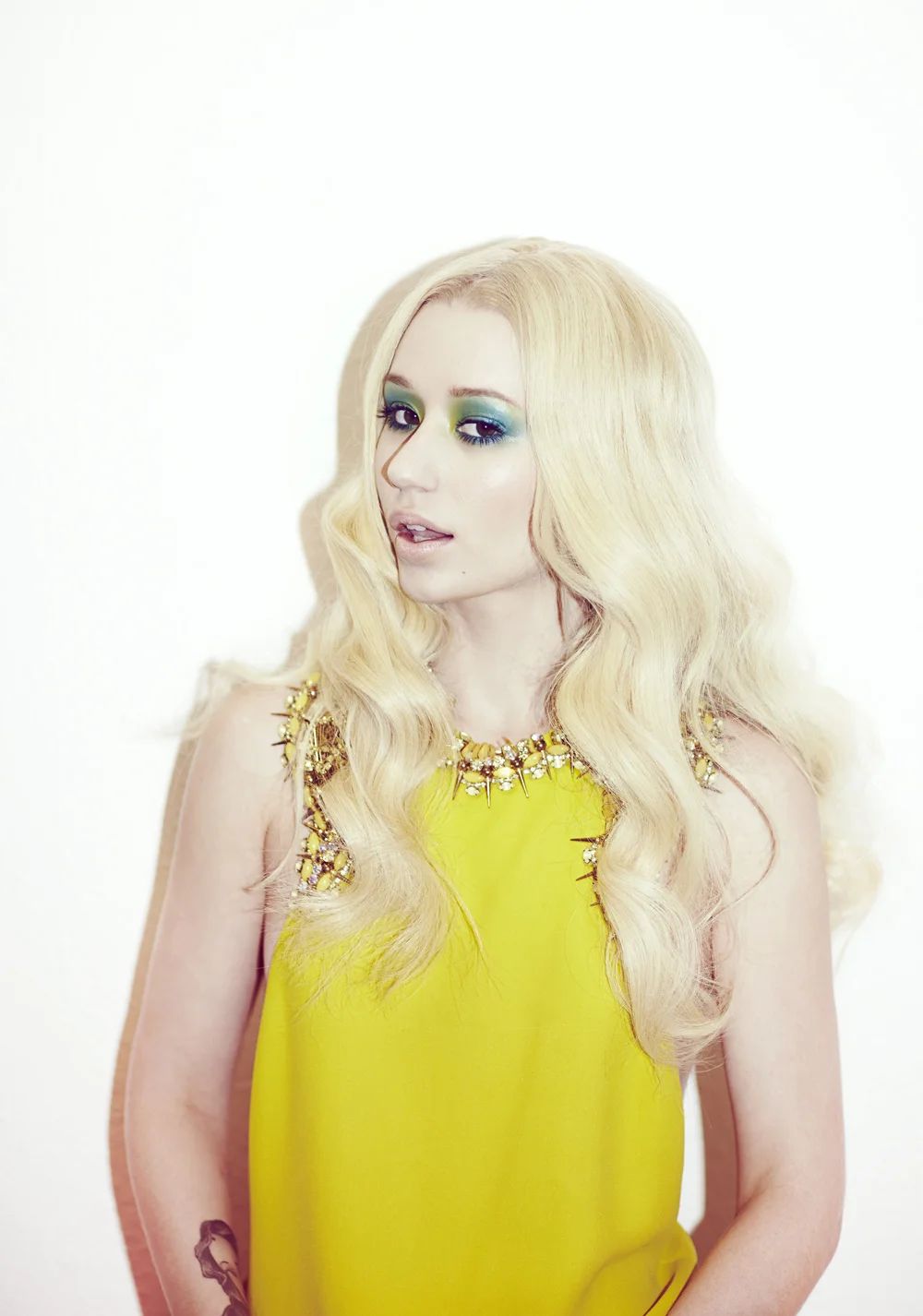 Smiley, erudite and open, she's a far cry from the intimidatingly sultry rapstress portrayed through her public persona. Iggy Azalea has built herself a notorious reputation on the rap and hip-hop scene, with her irrevocably sexy looks, original style, and bullet-fast, tongue-in-cheek vocals. She's set to explode out of the underground this year and we've even heard rumours of a Rihanna collaboration in the works. One of her best-known ventures was the brilliantly brash, lewdly lyrical stomper Pu$$y."My mother loves that song!" she laughs, "She thinks it's hilarious. I want to try to have funny songs like Pu$$yand crazy things. I want it to be crazy and fun because I want it to be an escape for other people."
As a country girl from Oz, it's deliciously bizarre and original that Iggy has become so involved in such a volatile industry. "As a fan initially Tupac is what interested me. But also I loved Missy Elliot and Busta Rymes. I loved all these rappers that had crazy visuals and characters to go along with it. I was just more of a fan of that than I was of pop music or singers which I think are a bit more feminine. I liked rap because it had that aggressiveness that I was a fan of. And I was such a fan that I thought hey, maybe I can do it."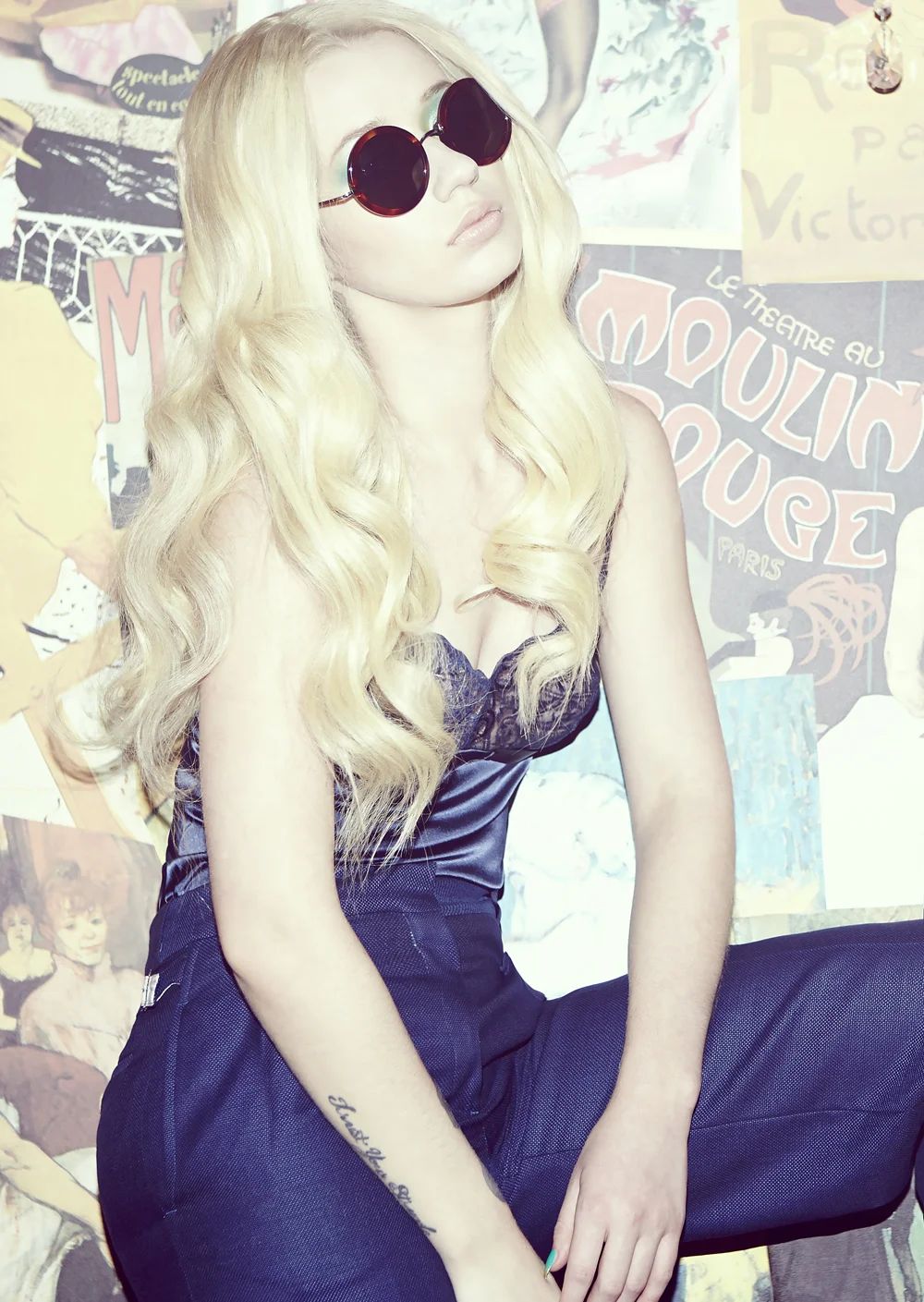 So she did. With millions of YouTube views under her studded belt, and an album on the horizon, she's laced up her Converses and is skipping her way down a graffiti-spattered alley of success. One of the most notable of her hits is T.I. collaboration Murda Bizness. Ironic and mischievous, it's a defiantly varnished middle finger in the air to some of the more superficial aspects of the rap scene. The accompanying video defines this with almost chilling political intelligence, making sharply allegorical use of a children's beauty pageant.
"It's to do with machoism in the male personas of rap that I encounter. A lot of their behaviour is really feminine and almost diva-like. When I watched Toddlers & TiarasI was really interested in it, and drew comparisons with a lot of the male artists I've met. The jewellery, the way they act, the temper tantrums. When I put out Murda Bizness, so many people tried to say it was about murder, but I don't think anyone's really stupid enough to think it's not metaphorical. Anyway I didn't want to make a video that was in a club or whatever, I wanted to do something different. I was kind of looking for an excuse to be like 'don't you see, you're the same!'"
We ask if the unknowing subjects of the theme in the video realised how they were being represented. Iggy demurely sips her water, visibly suppressing a giggle. "When I made it T.I. was like 'what the fuck does this mean? This is weird.' I don't think they get it. One of them said to me just last week, 'I love that Murda Bizness song you did Iggy, that was sick, but I dunno 'bout that video that was kinda weird, I wanted to see you in the club with bad bitches and bottles and stuff.' And I was like 'Mmmhm. Ok. Of course you did. Right over your head.'" She snaps her fingers knowingly and polishes off the last of her water.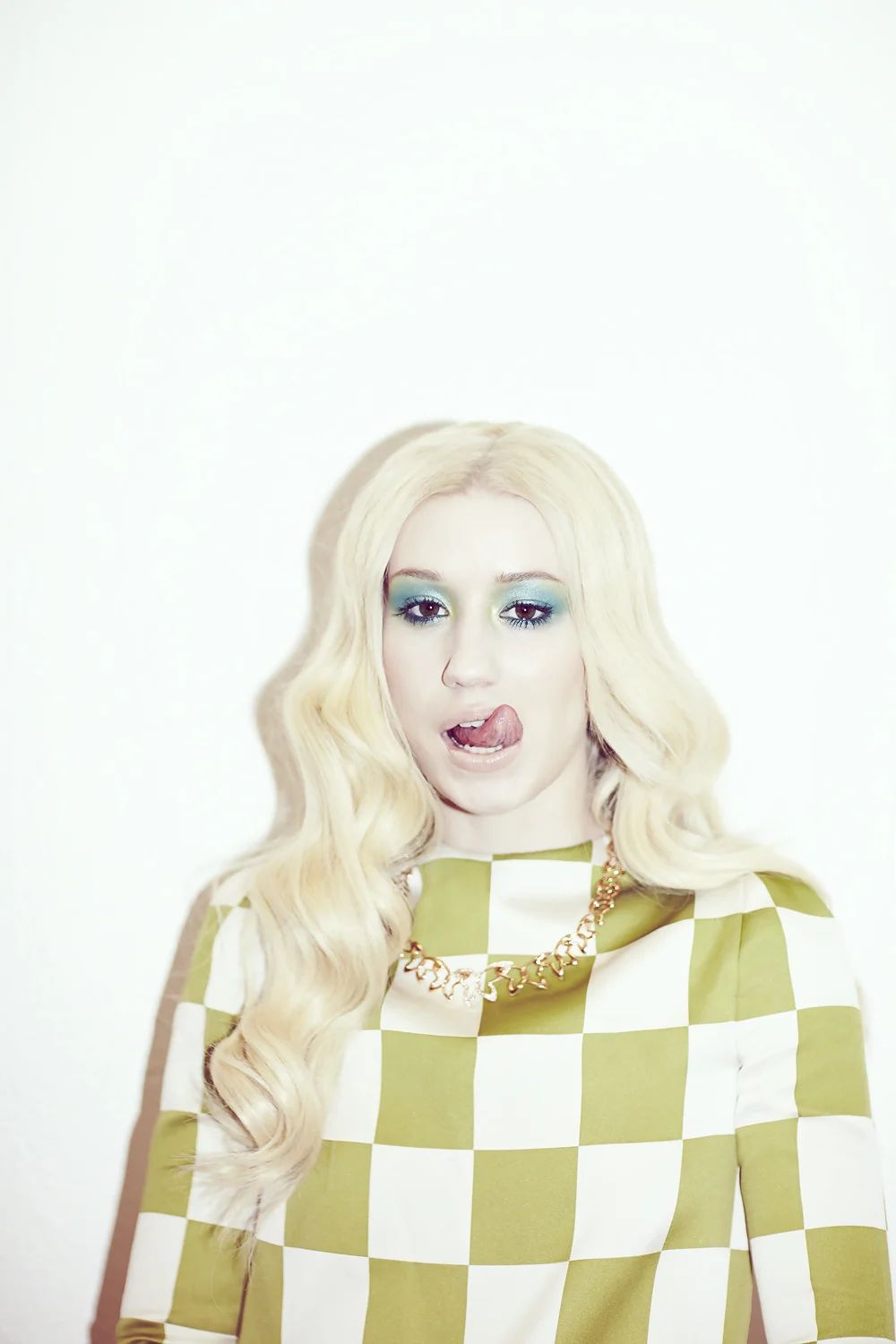 In light of her work with T.I. we enquire about future collaborations planned for her, including the rumoured record with Rihanna. Iggy arches an eyebrow. "If the Rihanna thing were true or it weren't true I wouldn't tell you either way," She says coyly "It's for her to tell."
Despite the sense of fun Iggy has brought to it in recent months, rap and hip-hop remains a difficult and controversial milieu, and venturing into its storm-ravaged waters is a risk. Seemingly more than any other genre, its artists are constantly under scrutiny not just in their songs and lyrics, but on social outlets too. Freedom of speech and political views are monitored on dauntingly unforgiving levels. The ubiquitous Azealia Banks for example, was recently dropped by her record label after using the word "faggot" on Twitter, and interestingly her and Iggy have had conflicts in the past on the subject of race.
"I used to think it was just words," says Iggy "but since offending many people my perspective has changed a little bit. This is what I'll say…," she sweeps back her golden mane thoughtfully, biting her lip. "It's like when you're a guest in someone else's house. I'm using a house as a metaphor for someone else's culture; gay culture, black culture, y'know. With any kind of thing that you're a visitor in, I think you have to respect it and respect the rules, and know that you don't make the rules. So I could always say that I'm not offended by it or I think whatever the fuck I think, that's fine. You don't have to abide by it. But ultimately I think you should respect the people who are the originators of it, and they get to dictate what the rules are of that culture, and if they say it's offensive, then it's offensive."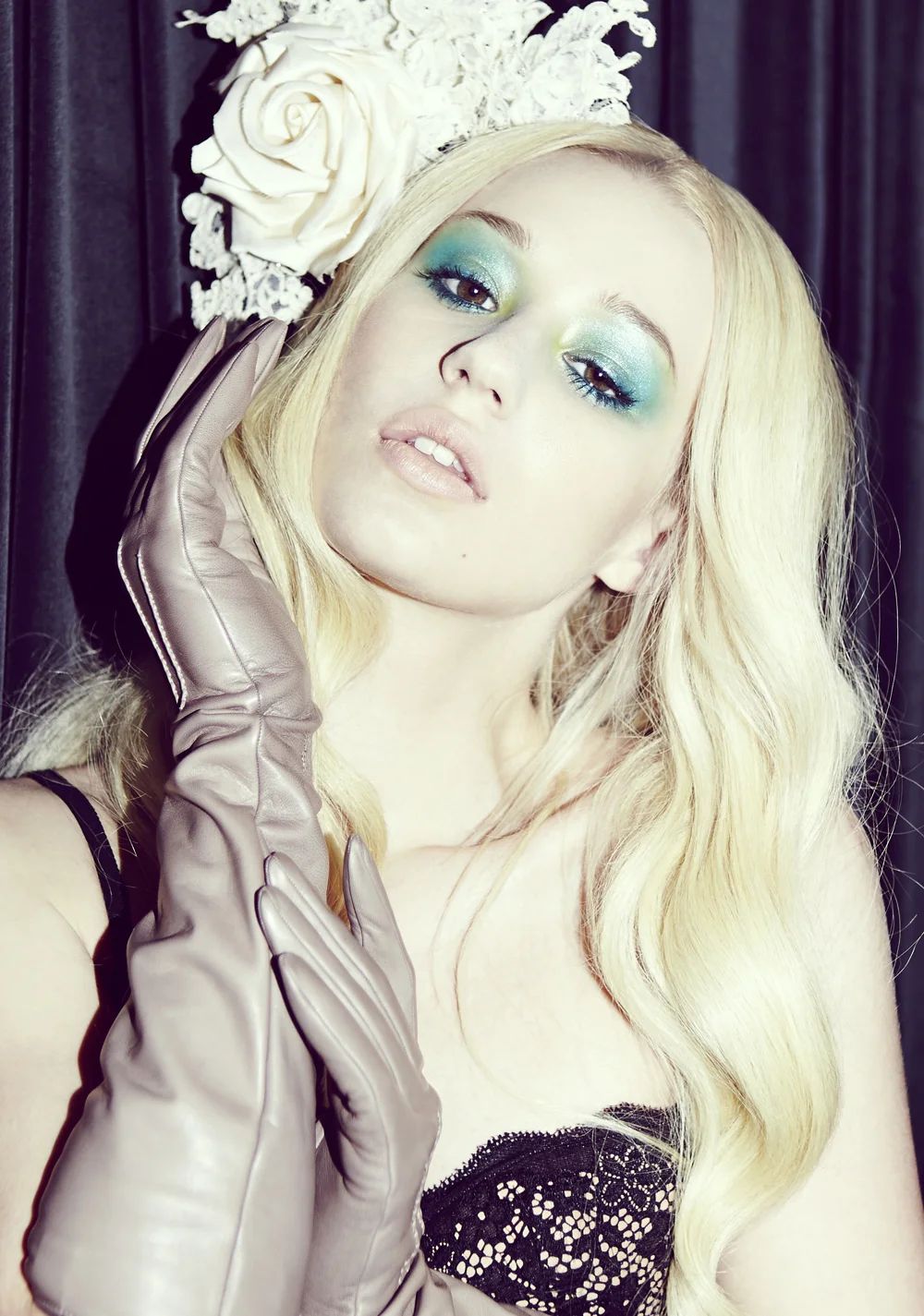 Socio-political litigiousness covered, we both breathe a sigh of relief move on to less heavy fare, like Iggy Azalea's unusual and distinctive stage name.
"I used to have a dog called Iggy. When he died I got a nameplate necklace made with his name on it, because I thought it was such a cool name… and people just started to assume that was my name! Because why would you have your dead dog's name around your neck. So I just started to rap under the persona of Iggy. And then for my last name I just wanted something that was beautiful and feminine. Azalea was the street that I grew up on and it reminds me of home and where I'm from."
Yet another interesting aspect of Iggy Azalea's work is its amalgamation with art, which she takes great passion in. She takes a philosophically imaginative stance on the melding of art in music and in its more traditional sense. "I'm an art geek. I love art and I love creating things. Architecture, installation, painting, etching; I just like things that make the world more beautiful. Things that you can think about or look at from a different perspective, things that can have different meaning. Because I think that if the world doesn't have that, it's pretty drab and grim. I'm interested in the way art and music helps you escape from your life. For me growing up as a kid it was definitely my escape. Not just music but also art and drawing."
She then gives us some insight into the concept behind perhaps the most significant point in her career so far, in the form of the release of her debut album, the intriguingly titled The New Classic. "I just wanted my album to say 'hey, this is the new face of rap music. This is what it looks like, it looks like me, this is who's listening to it'. That's what I'm trying to get across, but not in a crude way."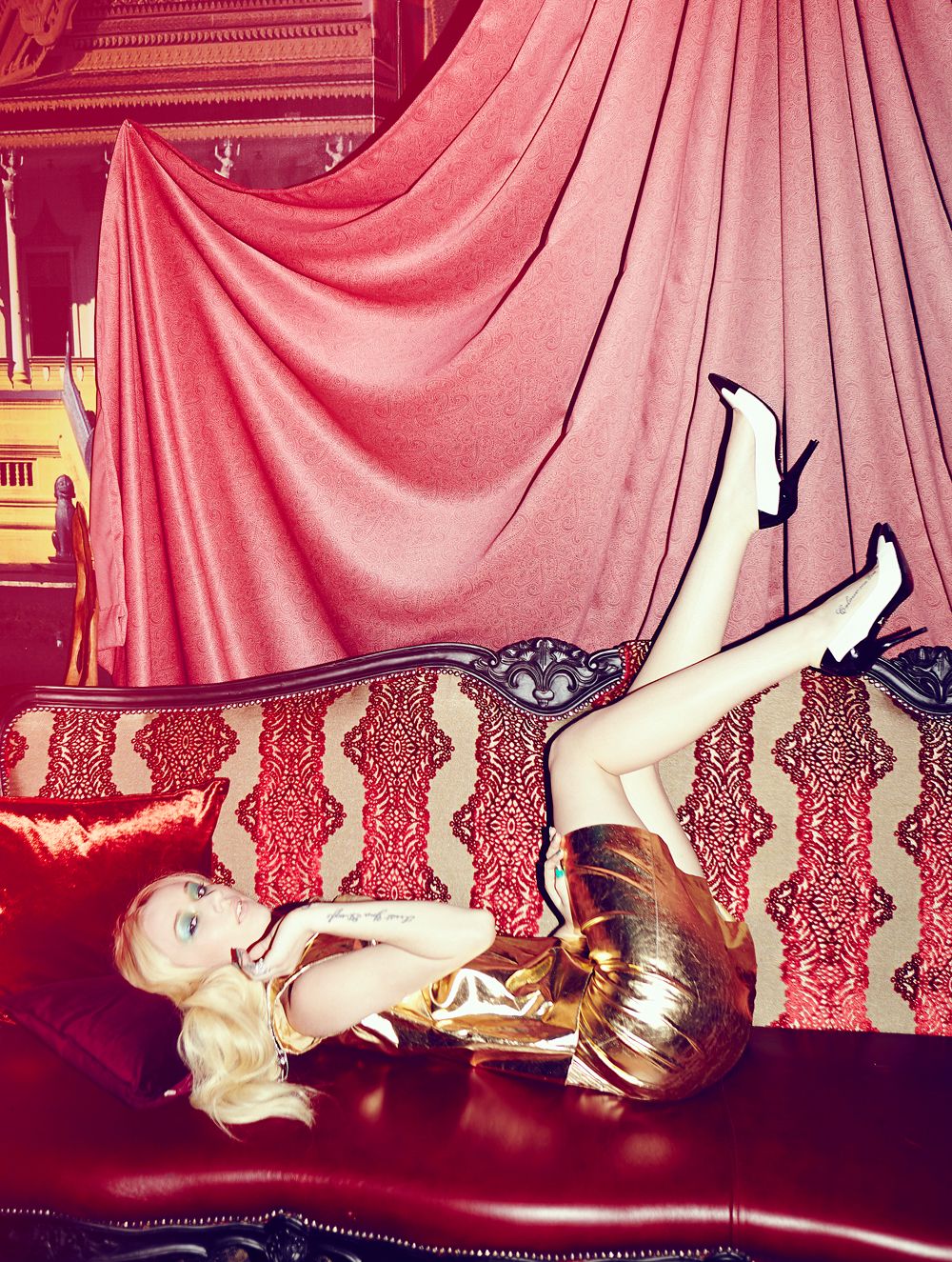 She continues to discuss what the album is attempting to achieve, and its various sonorous aspects. "Work[the debut single] is the more experimental shit that's in there, and I've got more shit in there that's experimental in a way, but it's not all that far left. There's some rap in there, there's some dance in there. There's some stuff that's, like, traditional song structure…," she rolls her eyes as if it pains her to admit to something so mainstream.
We express our respect for her at putting out the more unorthodox Workas the album's debut and she shrugs. "If I didn't, people would think I was a sell-out. The second single is more typical. You can tell because all the record labels are fucking cumming in their pants over it."
We go on to discuss her high-heeled climb into success, and the hectic schedule on her shoulders in the coming year. "I'm really excited for 2013. I know it will be a year that I'm going to remember forever because it's going to be the year I put out my first album… I hope it will help people have a better understanding of who I am. It's hard to feel a little bit misunderstood all the time. I really did feel that way last year so I'm hoping this year will be a little bit different. Regardless, I know it's gonna be loads of fun."
Iggy Azalea is something the rap and hip-hop industry is in dire need of; a wily, whip-haired splash of frenetic fun and colour. And the best part is, they don't know what's hit them. It's almost as if someone lept from behind a stage door and emptied a packet of Skittles over 50 Cent's head, or scribbled all over Eminem's hoody with a neon yellow highlighter pen. It's this enigmatic, inexhaustible distinctiveness that defines Iggy Azalea as what she is; powerful, gorgeous and, ultimately,extraordinarily talented.
Words by Dylan B Jones